About Western Economic Diversification Canada
Western Economic Diversification Canada (WD) is the federal department that promotes economic growth in Western Canada. Its programs and services help businesses, not-for-profits and communities grow stronger.
Mandate
Promote the development and diversification of Western Canada's economy and advance the interests of the West in national economic policy, programs and projects
Vision
WD's vision is to be a leader in creating a more diversified western Canadian economy that has strong, competitive and innovative businesses and communities.
Organization
The Department operates under the provision of the Western Economic Diversification Act, which came into force on June 28, 1988. As a federal department, WD is headed by a Minister and a Deputy Minister. The Minister for Western Economic Diversification Canada is the Honourable Mélanie Joly. The Deputy Minister is Dylan Jones.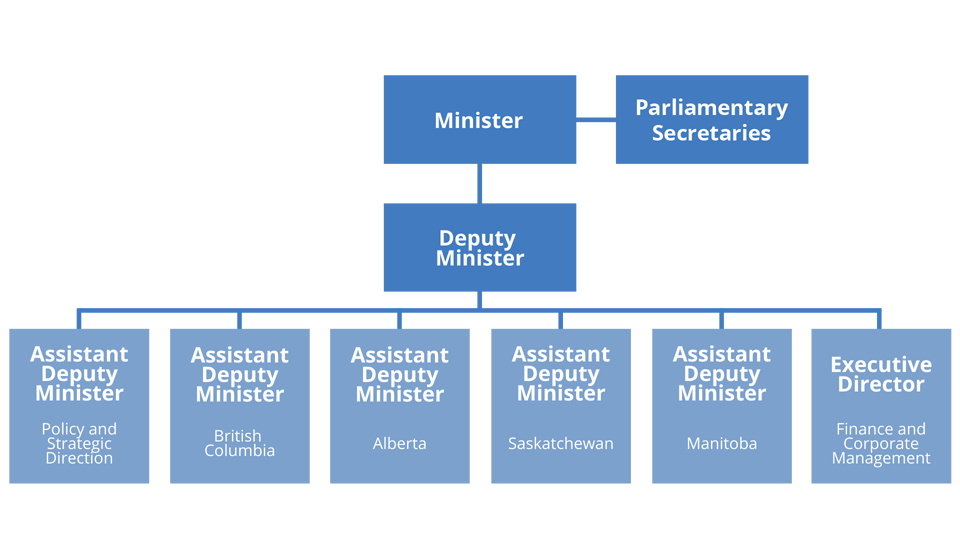 Organization chart - text version

Minister

Deputy Minister

Assistant Deputy Minister, Policy & Strategic Direction - Ottawa
Assistant Deputy Minister - British Columbia
Assistant Deputy Minister - Alberta
Assistant Deputy Minister - Saskatchewan
Assistant Deputy Minister - Manitoba
Executive Director, Finance & Corporate Management

Parliamentary Secretaries
WD's head office is in Edmonton, Alberta. Regional offices are in each of the other western provinces:
Winnipeg
Saskatoon
Vancouver
The department also has an office in Ottawa and a regional satellite office in Calgary.
Programs and services
WD fulfills its mandate primarily through grants and contributions programs. These programs enable the department to contribute strongly to the productivity and competitiveness of the West.
WD supports activities that contribute to 3 broad goals which Policy, advocacy and coordination help support.
Innovation - A strengthened western Canadian innovation system

What is Innovation?

Innovation is the process of transforming knowledge into new products, processes and services which, in turn, generate new economic benefits. For this process to succeed, a complete system must be available that supports the movement of a new idea from initial concept, through research and development, to a ready-for-market product. A highly developed innovation system, or "cluster", is focused on a specific area of strength and includes:

Universities, research facilities, industry, government labs, and other "knowledge infrastructure" that develop new technologies and a skilled workforce,
Early stage venture capital financing to help bring technologies to markets,
Industry associations and other organizations that link the players in the innovation system,
Firms capable of developing and adopting new technologies, and that are connected to local and global markets, and
A business environment that fosters innovation.

What's the WD Connection?

Western Economic Diversification Canada (WD) supports the creation and growth of knowledge-based clusters in new economy sectors that contribute to an increase in knowledge-driven and value-added economic activities. In partnership with other levels of government and other partners, we make strategic investments to:

Commercialize innovative, technology-based products, processes and services;
Stimulate greater private sector investments in commercialization activities;
Increase the number of jobs for highly qualified personnel (HQP)in Canada;
Enable company growth; and,
Strengthen western Canada's innovation ecosystem.
Business Development - A competitive and expanded business sector in Western Canada

What is Business Development?

Business Development supports western Canadian businesses, industry, research organizations to enhance business productivity, global engagement and increase entrepreneurism.

What's the WD Connection?

Western Economic Diversification Canada (WD) collaborates with organizations and other levels of government to:

Support small and medium-sized enterprises (SME) to become more productive and globally competitive;
Enhance small business access to information, training, business advisory services and capital;
Assist SMEs to engage in international business and to access opportunities linked to government defence procurement;
Improve trade corridors within Western Canada to strengthen access to international markets; and
Work to attract investment to western regions.

Strong SME's in western Canada with improved capacity to remain competitive in the global marketplace
Community Economic Growth - Economically viable communities in Western Canada, with a high quality of life

What is Community Economic Growth?

Community economic growth (CEG) involves economic development initiatives that support communities to advance their economies, as well as adjust to changing and challenging economic circumstances. By using knowledge and resources resident in the community, CEG identifies and capitalizes on local opportunities to stimulate economic growth and employment. This includes strengthening the infrastructure and capacity of communities to achieve their full economic potential.

What's the WD Connection?

Communities have increased economic opportunities and capacity to respond to challenges, as well as the necessary investments in public infrastructure

Western Economic Diversification Canada (WD) contributes to community economic development in urban centres and rural areas through initiatives that capitalize on opportunities for growth and development, and enable communities to adjust to challenges that hinder competitiveness and quality of life. A significant proportion of WD's community economic development funding stems from our role as the western delivery agent for national programs offered by the federal government such as infrastructure programs.
Strategic Priorities
WD activities in 2021-22 will focus on two priorities:
Cluster Growth: WD will make strategic investments to advance selected clusters in western Canada.
Inclusiveness: WD will help to increase economic participation by Indigenous peoples, women, and youth.
Read more about our priorities in the 2021-2022 Departmental Plan.
Legislation
The Western Economic Diversification Act governs budgets and activities. The Act seeks to boost and diversify the western Canadian economy. It also advances the interests of the west when the Government of Canada creates national economic policy and runs its programs.
The Act requires the WD Minister to fulfill 3 duties:
guide, promote and coordinate federal policies and programs that relate to Western Canada's economy.
lead federal efforts to work closer on economic matters with western provinces, including:

provincial governments
business
labour
other public and private groups

compile data on all WD's programs and projects, in order to measure trends and progress
Values and standards
WD employees care about people and about serving the best interests of its many clients. These 6 statements reflect WD's values. They were developed in the context of the Values and Ethics Code for the Public Service:
We value, respect and care for one another and recognize that the success of WD depends on the success of each and every one.
We are committed to WD's mission and to serving and supporting the needs of our clients and partners in Western Canada.
We are a learning organization.
We manage with integrity, honesty, accountability, equity, fairness, transparency and respect.
We recognize that communication is the cornerstone of our work.
We recognize and celebrate excellence and achievement, whether great or small, in all employees.
WD employees are accountable for their actions. They know that for these statements to have meaning, each of them must hold the other accountable in a supportive manner. From these values, comes WD's commitment to provide you with quality service.
Transparency
The department's Access to Information and Privacy (ATIP) unit administers both the Access to Information Act and the Privacy Act. It ensures the department's compliance with both laws. The unit is at WD's Headquarters in Edmonton, Alberta.