Communities

"Connected to Innovation and Growth"
In the last census, eight of the ten fastest growing Canadian municipalities were in the West. A combination of beautiful natural landscapes and opportunity make the West an appealing place to live, work, and play. Businesses, workers, and their families are looking for vibrant communities.
Modern infrastructure and services are needed in rapidly growing cities and communities across the West. Major cities are attracting new residents and businesses, but are dealing with mounting pressures related to affordable housing, public transit, local services, and environmental challenges. Mid-sized cities such as Kelowna, Lethbridge, and Brandon are also growing. They are proving how innovation can happen outside of larger centres, by offering comparable amenities and services.
Many small centres are dealing with diverse challenges and new opportunities are emerging. They often lack the resources to adapt to new economic realities. For instance, agricultural communities on the prairies stand to benefit from growing global demand for plant-based proteins and food products. At the same time, larger farming operations are struggling to attract workers.
Indigenous communities face unique barriers to education and jobs, resulting in lower high school graduation and higher unemployment than the non-Indigenous population. Sixteen First Nation communities in western Canada are dealing with long-term drinking water advisories due to inadequate treatment infrastructure.
Mobility is key. Often, those living in rural areas have to travel far distances or relocate to access quality education, health, and other services. Transportation barriers such as a lack of transit or driver training and testing options can make it difficult to get to school or work.
New solutions are required in urban and rural communities to ensure they continue to prosper.
Build Resilience and Liveability
Western Canadians are known for pioneering solutions that overcome geographic challenges and harsh environments. However, rapid population growth and accelerated climate change are straining current infrastructure. Improving the effectiveness of our public services and supports requires cooperation and investment from government, industry, and communities.
Many rural communities are vulnerable to the destabilizing effects of economic transition. The loss of a core industry can make it difficult to retain young workers and draw new residents. This is leading to an aging population and stagnant economy in some communities.
Natural disasters are increasing in frequency and intensity. Over the last decade, western Canada has experienced more natural disasters than any other region. Three of the most expensive disasters in Canadian history occurred in the West. Insured losses from wildfires in Fort McMurray and Slave Lake, as well as major flooding in Calgary reached $6.4 billion. Innovative approaches to planning and development are needed to mitigate the increased risk of natural disasters.
Western Canadians want to live in communities well positioned to adapt and capitalize on economic opportunities.
The Government of Canada's Disaster Mitigation and Adaptation Fund provides funding for infrastructure projects that better manage the risks of natural disasters. In addition, Budget 2019 announced $259 million to support increased resiliency and emergency management for communities on-reserve. Provinces are also taking action, such as Alberta's Community Resilience Program that builds supports against floods and droughts.
Housing is essential for peoples' well-being. A permanent address is often needed to secure employment. Over the next decade Canada's National Housing Strategy will invest over $55 billion to build stronger communities and help Canadians across the country access a safe, affordable home.
Budget 2019 announced further investments of nearly $740 million to upgrade water systems and operator training for Indigenous communities to eliminate long-term drinking advisories. In addition, a transfer of $2.2 billion through the federal Gas Tax Fund will support municipal infrastructure projects.
Substantial investments by federal, provincial, and municipal governments are increasing the speed, capacity, and proximity of public transit services. Expansion projects in major cities, such as Vancouver's Evergreen Line, Edmonton's Valley Line, and Winnipeg's Southwest Rapid Transit are improving affordable transportation and reducing traffic congestion.
Tourism is an important driver of economic growth and job creation in western Canadian communities. Canada's Creating Middle Class Jobs: A Federal Tourism Growth Strategy is empowering communities, from small to big, to grow their visitor economy. The $58.5 million Canadian Experiences Fund will help communities create, improve or enhance tourism products, facilities, and experiences.
The West is growing and so is the need. We must work together to:
Keep Pace in Growing Urban Centres
Government coordination is required to provide affordable housing and public transportation.
Support Communities in Transition
Communities experiencing economic shocks require investment and industry partners to spur new growth. Satellite university and college campuses, local research centres, manufacturing operations, and tourist attractions can bring prosperity back to those communities.
Partner with Indigenous Communities and Organizations
Governments need to work alongside Indigenous communities to build secure and affordable housing, high quality schools, and reliable water treatment systems. Industry should actively pursue Indigenous partners to mutually benefit from shared expertise.
Strengthen Rural Communities
Governments should work with communities to retain youth and attract immigrants to pursue local opportunities. Transportation solutions are also needed to improve mobility and access to services.
Build Resilience to Natural Disasters
Municipalities should work with other levels of government and insurers to invest in risk assessment, hazard reduction, and green infrastructure.
Protect Arable Land
Protect arable land. The effects of climate change threaten the future of agricultural communities and food production across the prairies. Governments and industry need to invest in sustainable water and soil management.
---
Grow West Spotlight
Community Resilience in Northern Manitoba
Reliable transportation infrastructure is essential to growing our economy and ensuring our quality of life. For many remote and rural communities, it serves as a critical lifeline. Air, rail, and sea are the only methods of transportation for significant portions of northern Manitoba, including the Town of Churchill and surrounding communities.
Read this story

In 2016, the Port of Churchill shut down. The following year, catastrophic flooding closed sections of the region's main rail line. Communities in the northern half of the province had relied on these transportation links for more than 80 years. Jobs were lost. Residents and businesses faced far steeper costs for shipping and travel. New solutions were needed.

To support communities through this difficult time, a two-pronged approach was taken. First, the Churchill and Region Economic Development (CRED) Program was established to spark immediate economic development opportunities across the region. To date, over 60 CRED projects have supported skills training, employment, business, and food security initiatives in Churchill, Thompson, The Pas, and other northern Manitoba communities.

Second, the Arctic Gateway Group (AGG) partnership was formed to fix the rail line and return service to the communities. AGG is a new ownership model that includes over 30 First Nations and communities in the region, AGT Food and Ingredients, and Fairfax Financial Holdings.

AGG's hard work restored rail service before the onset of winter 2018 to get goods and people moving. To continue repairing the rail line and revitalizing the Port of Churchill, AGG has hired over 200 employees from electricians, to heavy equipment operators, to maintenance workers.

All of these activities anchor the future for the communities of northern Manitoba and for Canada's Arctic interests. From disaster, the communities joined together to create new opportunity.
"BOLD INVESTMENTS INTO MUCH NEEDED INFRASTRUCTURE WILL CREATE LONG-TERM SOCIOECONOMIC GROWTH FOR THE NORTH. WE SEE IMMEDIATE OPPORTUNITIES TO SUPPORT THE SUCCESS AND GROWTH OF THE BUSINESS, CREATING OPPORTUNITIES FOR OCN AND FOR ALL OF OUR PARTNERS IN NORTHERN MANITOBA."
Onekanew (Chief) Christian Sinclair,
Opaskwayak Cree Nation
Enhance Digital Access
Connected technologies demand fast and reliable access to the internet. Computing power and fast networks enable scientific and industrial research. Access to these digital tools help people, businesses, and communities be more competitive.
Canada is lagging. For some digital services, we pay more and have slower speeds than many other countries. This limits the adoption of technologies that would improve our innovation and productivity.
In rural areas, the need is clear. For example, internet connection speeds in 98 per cent of households in rural Saskatchewan are too slow to support the online delivery of business, education, or health services.
Governments can work alongside internet service providers to improve the reach, performance, and affordability of internet connections.
Affordable, high-speed internet access in rural and remote communities is a priority for all levels of government and industry. Budget 2019 establishes a national connectivity target, where every Canadian home and business will have access to speeds of at least 50/10 Mbps within the next 10 years. Work is underway to address connectivity gaps through the Government of Canada's Connect to Innovate program, Canadian Radio-television and Telecommunications Commission's Broadband Fund.
As well, the Government of Canada continues to make it easier to access its programs online. For example, Service Canada's Service Transformation is increasing digital self-serve options, such as Employment Insurance, Canada Pension Plan, and passport services.
To ensure communities have the digital infrastructure needed to participate in a technologically advancing economy, we must find new ways to:
---
Improve Broadband
Industry and governments need to work together to improve the availability of affordable, high-speed internet. Stronger connectivity will help all communities participate in the digital economy.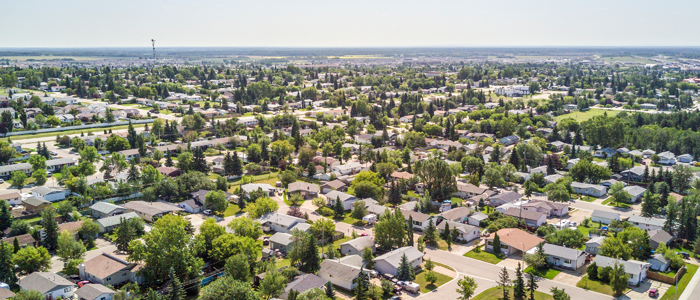 ---
Build Smart Communities
Municipalities need effective and secure data collection to reduce waste and traffic congestion, while also improving public services and safety.
---
Deliver Effective Virtual Services
Governments should continue rolling out a full suite of digital services. Virtual access to business, education, and health care services reduces barriers faced by those in rural and remote communities.
---
Grow West spotlight
Leading the digital charge
Many rural communities are forced to deal with internet that is both slow and expensive. In 2013, the Olds Institute, a non-profit regional development agency, installed a fibre-optic network.
Read this story

Residents and businesses in Olds, Alberta, now have gigabit internet access that are competitive with conventional highspeed internet subscriptions in large cities. Prospective residents now see Olds' internet access as an asset. It has transformed the digital access of Olds College and businesses no longer talk of leaving due to connectivity constraints.