Colouring It Forward advances reconciliation through Indigenous art
Organization:

Colouring It Forward

Region: Alberta
Impact:

Social enterprise advances reconciliation through Indigenous art

Project:

Indigenous Business Development Services (IBDS) funding to Colouring It Forward

Category: Women, Indigenous
Story Date: 2020-11-19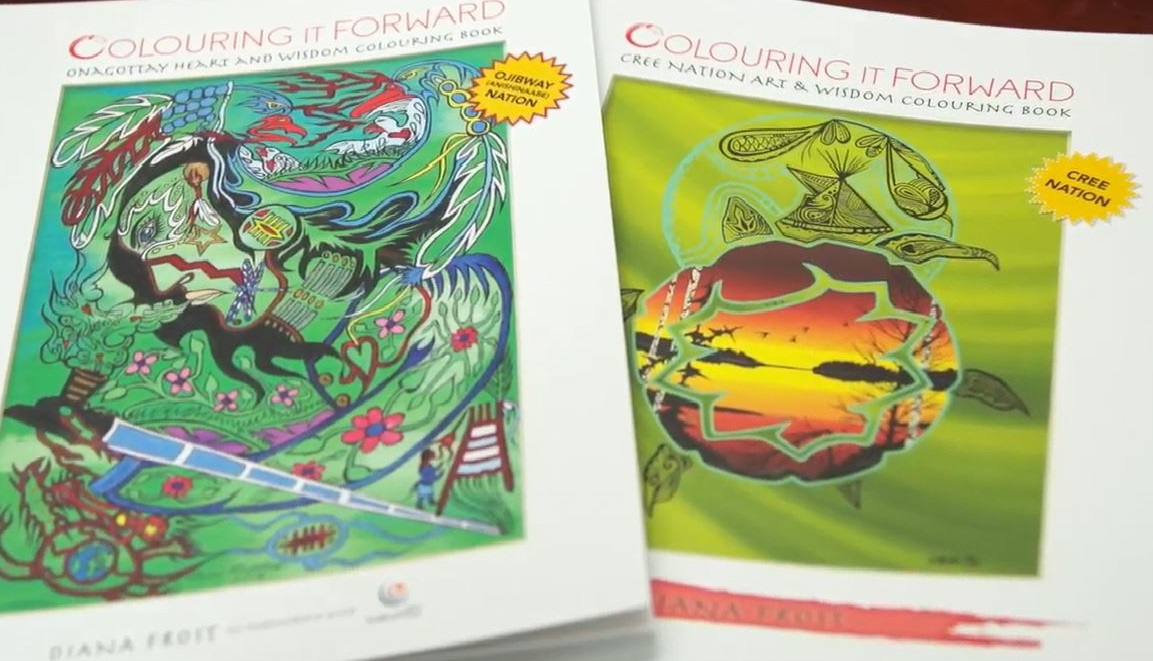 Colouring It Forward is an Indigenous social enterprise with a mission to educate about Indigenous issues, art, language and culture through a grassroots approach. Art-based workshops and events offer instruction on Indigenous ways of knowing and promote healing and reconciliation between Indigenous and non-Indigenous people. With support from Business Link, Diana Frost has grown her business to reach 190 stores and displays Indigenous art in large museums and galleries.
Business Link is the Alberta partner in Indigenous Business Development Services (IBDS). This network provides early-stage support for new and existing Indigenous entrepreneurs and business organizations in Western Canada.
Transcript: Colouring It Forward advances reconciliation through Indigenous art
[music]
(Colouring It Forward logo)
(Scenes of Colouring It Forward books, while Elder John Sinclair reads and Diana Frost speaks)
(ELDER JOHN SINCLAIR - reading) We are all one because we all walk on two legs. We are all related because we need all those things to survive and all of those things give us life.
(DIANA FROST, FOUNDER AND CEO, COLOURING IT FORWARD) My name is Diana Frost and I am the founder and CEO of Colouring It Forward.
Colouring It Forward is an indigenous social enterprise whose goal is to help people to learn about indigenous culture by reading stories and teachings from elders, having a chance to reflect on them, and also being more aware of the artwork. So that's why I put original, authentic artwork in the colouring books. Part of the whole concept of Colouring It Forward is to share back royalties with the artistsand the elders who work on the books and on the other products with me.
What I've seen is that some of the artists have really benefited a lot from the additional exposure and I'd like to think that it helps the elders as well a little bit, to make sure that their words and their stories are represented in a way that they are happy with. When I first started my business, one of my friends recommended that I get in touch with Business Link. Business Link helped me quite a lot. Things like business planning, figuring out how to price my products and ideas for where I could sell them, and how to promote them.
The support that I received from the Indigenous Business Development Services has been a lot of one-on-one time, where they would assess my business, where it was at, answer questions and give me advice. My clientele has grown to being over 190 stores. Our books and products are carried in a lot of the bigger museums and art galleries. So I am very excited about that.
My advice for indigenous entrepreneurs would be definitely call up Business Link, because they do have some people who are specifically helping indigenous entrepreneurs and just go in and have a chat with them. Tell them a bit about your idea, tell them about your business model and they'll help you with whatever questions you have.
(Business Link Indigenous Services logo)
(Twitter logo and text on screen: www.wd-deo.gc.ca @WD_Canada)
(Western Economic Diversification Canada wordmark)
(Canada wordmark)
[music stops]
Date modified: