Calgary-based Attabotics is reinventing the supply chain
Organization:

Attabotics

Region: Alberta
Impact:

From startup to top 50, Calgary's Attabotics is making headlines as one of the world's most innovative companies.

Project:

Attabotics

Category: Advanced Manufacturing, Business Growth, Digital Technology, Economic Diversification
Story Date: 2020-10-07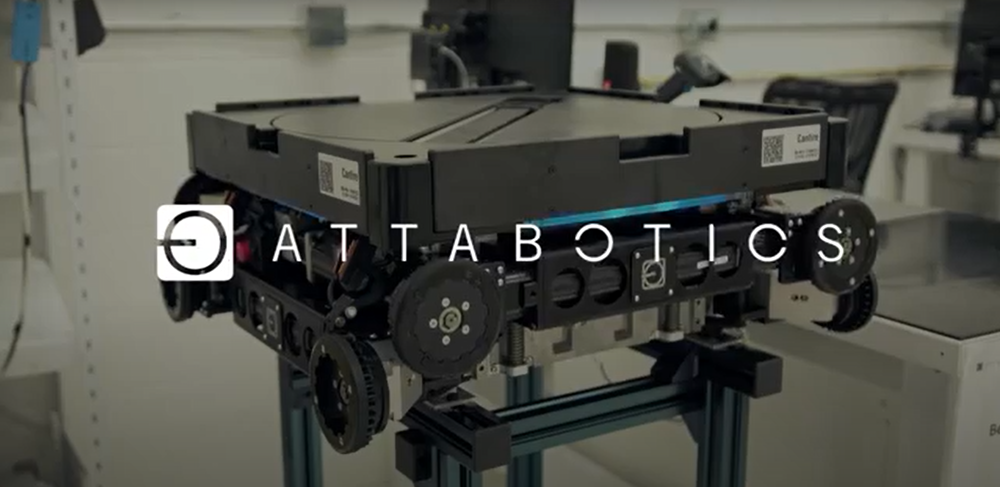 In just three-and-a-half years, Attabotics has seen a significant demand for its 3D goods-to-person storage, retrieval and real-time order fulfillment solution. To capitalize on the demand in a short timeframe, Western Economic Diversification Canada (WD) provided support through the Business Scale-up and Productivity program to help Attabotics increase manufacturing capacity of its automation technology, including hiring additional employees. When the global pandemic changed consumer behaviour and challenged the retail sector to move online, Attabotics' innovative solutions captured international recognition, earning the company a spot on CNBC's Disruptor Top 50 list. Attabotics continues to grow and attract customers and partners from a number of industries, including fashion retailers like Nordstrom.
Transcript: "Calgary-based Attabotics is reinventing the supply chain world"
(Music plays. The Attabotics logo appears over video of Attabotics storage robots moving in a storage tower, and being tested in the manufacturing setting.)
(BRAD SIMPSON, Attabotics Vice President Corporate Development) Attabotics builds a 3D robotic automated storage and retrieval system that allows us to use the full volume of the warehouse.
(Camera transitions to a view of BRAD SIMPSON in the Attabotics manufacturing facility where he narrates the Attabotics story.)
(BRAD SIMPSON) So we're able to take the traditional square footage of a warehouse and reduce it down by 85%. While at the same time significantly reducing the labour requirements and the time required to go from order, to the point of handing the shipment to the driver, to deliver it to a customer's house.
(Video clips to manufacturing facility where the camera pans staff working and testing on robotics where wheels and mechanics move and make sound. The camera also pans the Attabotics office space where employees are working on computers.)
(BRAD SIMPSON) Attabotics has experienced very, very significant growth. We're a very young company, we're only three and a half years old, yet despite that we've been pulled very aggressively into the market.
(Video clips of equipment in the manufacturing facility where robotics parts are being machined and prepared for assembly.)
(BRAD SIMPSON) The funding that we received allowed us to scale manufacturing aggressively and much quicker than we would on our own. We've been able to acquire some of the most advanced manufacturing equipment in the world and do it here in Calgary.
(Video clips of employees assembling robotics, using screwdrivers to tighten parts and computers to run tests.)
(BRAD SIMPSON) That manufacturing capability has also allowed us to grow the company. So currently we are just under 200 employees, all of them working in both the technology and the advanced manufacturing field.
(Voice over changes to JOHN HICKMAN Attabotics Vice President of Manufacturing.)
Type of manufacturing we do here requires us to have a very talented pool of people.
(Camera transitions to a view of JOHN HICKMAN in the Attabotics manufacturing facility where he narrates the Attabotics story.)
(JOHN HICKMAN) We're working with industry 4.0 standards to really automate what we're doing and really help control the quality and improve the quality of the product that we have going out the door.
(Camera transitions to clips of the robotics moving in and around the storage tower in both horizontal and vertical directions.)
(BRAD SIMPSON) Our current customer base represents quite a cross-section, both grocery, retail, pharmaceutical and luxury retail. We just recently were allowed to go public with our partnership with Nordstrom. They're a very significant customer of ours and have been a big supporter of Attabotics to date.
(Camera transitions to clips of employees having conversations in Attabotics' boardroom and working on computers in the office space.)
(JOHN HICKMAN) The future for Attabotics holds a lot of expansion of what we're actually doing today as well as growing our product offering to our customers. Right now we're still at the very core of our business. We have an R&D group that's continually adding more and more types of products to our core piece of equipment, which is going to allow us to grow and really take over full supply chain delivery for our customers.
(Camera transitions to show Attabotic's solution with a storage robot moving downwards on a vertical track.)
(Screen reads: WD committed up to $5M in interest free, repayable funding to Attabotics to assist in increased manufacturing capacity.)
(WD website: www.wd-deo.gc.ca and Twitter address is www.twitter.com/wd_canada)
(WD Wordmark)
(Canada Wordmark)
Date modified: