First Nation creates carbon-free electricity and new economic opportunity
Organization:

Cowessess First Nation

Region: Saskatchewan
Impact:

Renewable energy and economic development for an Indigenous community in Saskatchewan

Project:

Cowessess Renewable Energy Storage Facility

Category: Indigenous, Clean technology
Story Date: 2019-12-17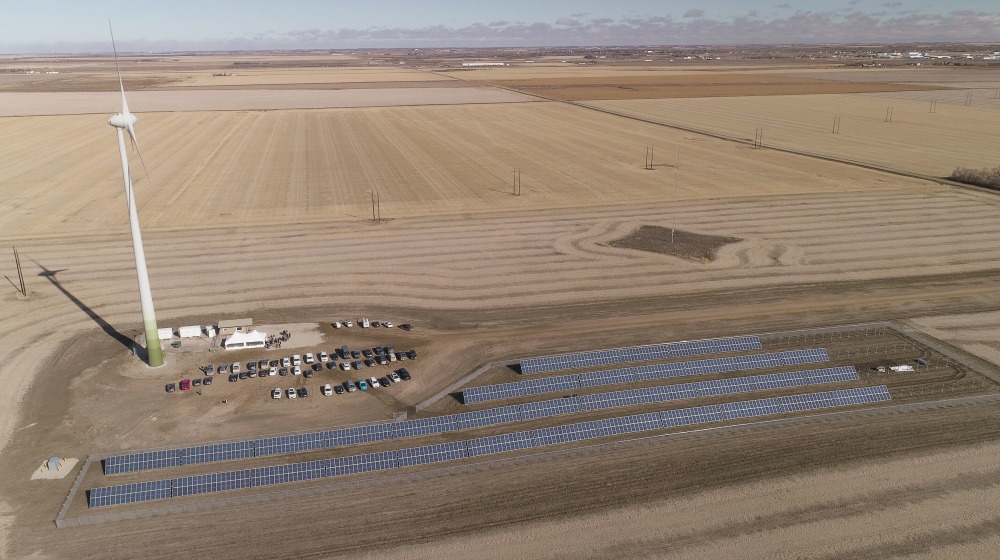 With help from Western Economic Diversification Canada (WD), Cowessess First Nation has achieved a first in Canada.
The Cowessess Renewable Energy Storage Facility is on reserve land southeast of Regina, Saskatchewan. It is the country's first hybrid renewable energy system. It generates both solar and wind power, then stores it in batteries. WD provided $910,000 to buy and install over 1,100 solar panels.
Transcript: "Cowessess Renewable Energy Storage Facility"

(Billboard reads "Cowessess Energy Storage Facility", followed by a diagram showing the flow of energy from wind turbine and solar panels into a battery and into the site office, as well as the two-way flow of energy from and to the SaskPower Grid. The camera then pans to a view of the facility.)

[Music]

(Various views of wind turbines and anemometers.)

(JESSICA NIXON – PROJECT DIRECTOR ECONOMIC DEVELOPMENT, COWESSESS FIRST NATION) Cowessess First Nation is pleased to be part of the emerging renewable energy sector here in Saskatchewan. Cowessess started its renewable energy journey back in 2006 and partnered with the Saskatchewan Research Council to install wind monitoring devices. The anemometer was installed for a full year and the wind data was collected. The results of the wind resource assessment verified that, yes, in fact there was viable wind conditions to justify investment in this particular site.

(Saskatchewan Research Council logo and Anton Farber at work)

(JESSICA NIXON) The Saskatchewan Research Council has an amazing team of technical staff who conceived our project concept in 2009.

(Diagram seen earlier on the billboard, followed by views of the facility's hardware.)

(ANTON FARBER – RESEARCH ENGINEER (SRC)) The research goal for the project was to show how a renewable, hybrid energy system could be used to provide a continuous electrical output on demand, compared to a standalone renewable energy system. In the first phase of the project, we were able to show that a battery reduced volatility of the wind turbine by 78%. As well, we could dispatch 400 kilowatts of power twice a day, which is equivalent to about a 170 ovens coming on at breakfast and supper time. As well, it has the ability to produce 200 kilowatts continuously for almost 11 hours.

[Music]

(Various people working at their desks, then pie chart of Saskatchewan's Potential Future Power Mix – Non-renewable 50%, Wind 33%, Hydro 15%, Other 2% (solar, flare gas, biomass, etc.)

(CADMUS DELORME – COWESSESS FIRST NATION CHIEF) Renewable energy fits within our values of Cowessess First Nation people. It fits within our economic self-sustainability plans that we do moving forward. And it fits within this province with their mandate, of 2030 being 50% renewable energy.

[Music]

(LIONEL SPARVIER – COUNCILLOR) This project has been a learning experience for us. It has given us the opportunity to move forward and play a role in green energy development.

(Various scenes on campus, then students visiting the facility.)

(CADMUS DELORME) But economic self-sustainability isn't just about solar panels. It's about creating employment. It's about getting our university students to get into engineering, to get in to science and come here and work here and to build off of it. So it's projects like these that we show our people that we have no limit to what we can do in university, to what we can do in school. So, we need more of our people now to use these projects when they're in school, to say I want to be an engineer, I want to be a scientist, I want to build renewable energy.

(Various scenes of the site under construction, followed by video footage of erecting the wind turbine.)

(JESSICA NIXON) Construction of the turbine started in August 2012. All earthworks and foundation activities happened that fall. All efforts were focused on preparing the site for the delivery and installation of the turbine. To add to the complexity of the project, the turbine erection and the nacelle lifts were planned for March, which turned out to be unceasingly cold and windy that year. The site was fully commissioned on May 10, 2013, and the project secured a one megawatt, 20-year power purchase agreement with SASK POWER.

[Music]

(JESSICA NIXON) The site had been operating successfully for nearly 4 years when Cowessess SRC and McNair started evaluating the site and looking at what additional potential it had. Immediately, solar energy was the answer.

(Various scenes of the wind turbine, the solar panels and the battery storage system.)

(JESSICA NIXON) The new project was to integrate solar energy with the battery storage system. In August 2017, Cowessess was pleased to be granted funding from Western Economic Diversification. This was the kickstart that the project truly needed.

[Music]

(JESSICA NIXON) In September 2017, we issued a request for proposals to the solar industry and in the end we selected Skyfire Energy from Calgary.

(More views of the wind turbine, the solar panels and the battery storage system.)

(DAVID VONESCH - SKYFIRE ENERGY) This project for us is incredibly meaningful. In addition, we're connected here to an existing 800 kilowatts wind turbine, as well as a soft lithium-ion battery bank. So, you know the progression of renewable energy to involve storage and integration with wind – this is really on the leading edge of solar technology in Canada.

(RYAN TOPOROWSKI – SITE FOREMAN) Over the course of 8 weeks here, me and the guys have become a very close family and we work well together and we motivate each other to get this project done very efficiently, and so it looks very good in the end.

(Various views of posts, racking, panels and wiring under construction.)

(RYAN TOPOROWSKI ) Starting this project, we started with post pounding – we had to go survey the land and then pound the posts in. Next step came the racking, where we had to hire more guys to give us a hand. The racking then involved a larger crew. We then went on to the solar panels, adding all the solar panels, and then now we are to the wiring and wiring all the AC and DC sides of the system.

(JESSICA NIXON) At Cowessess it is very important for us to build capacity within our community and our people. As such, a large part of our contractor selection was a willingness of the contractor to hire Aboriginal labor.

(DAVID VONESCH) We were able to hire 5 First Nation members, one of which was a journeyman electrician.

(Corey Lavallee and other electricians at work on the project.)

(CORY LAVALLEE – JOURNEYMAN ELECTRICIAN) My name is Corey Lavallee. I'm a journeyman electrician from the Cowessess First Nation, I'm usually the guy that's coming in and fixing the wires, cleaning them up, making it look nice. I haven't had any experience in solar. This is actually my first project I've ever been on. Me being from Cowessess and actually having Cowessess start this has been great. It's not just great for Saskatchewan or the First Nations community, it's great for the next generation.

(RYAN TOPOROWSKI) Everybody has been very motivated to learn and to continue on in the solar field after a project like this one.

(DAVID VONESCH) We're really excited to be able to you know keep one of those First Nation members as a permanent staff member following this project.

(BLAZE McKAY – APPRENTICE ELECTRICIAN) Since this Cowessess job, I have been offered permanent employment with Skyfire Energy, and I am here in Calgary now, trained as an apprentice electrician. I'm really excited to be a part of this emerging industry.

(Various people at work assembling the facility, then Camdus Delorme admiring the solar panels.)

(CADMUS DELORME) It's very powerful to stand in between the solar panels and to look around and just say, "Wow! Cowessess First Nation owns these."

(Various views of the facility from the air and from the ground.)

(LIONEL SPARVIER) This is not just something that benefits Cowessess but the whole world needs to start thinking green if we want our children yet unborn to enjoy the same quality of life that we enjoy today.

[Music]

(JESSICA NIXON) This project is just the beginning. We have our eye on much bigger projects, and we look forward to developing more Aboriginal renewable energy projects here in Saskatchewan.

(Various groups of people walking from their vehicles, talking with each other, then assembled in a tent with standing room only.)

(RALPH GOODALE – MINISTER OF PUBLIC SAFETY AND EMERGENCY PREPAREDNESS, MEMBER OF PARLIAMENT FOR WASCANA – speaking at microphone) And today I'm very pleased to join with all of you to celebrate the completion of the solar expansion to the Cowessess renewable energy storage facility.

(DOUG OPSETH – SASKPOWER – speaking at microphone) Will balance our priorities of keeping our options flexible and diverse, while making sure that we provide clean, reliable and cost-effective power to our customers.

(SHERRY DANIELS – INDIGENOUS SERVICES CANADA – speaking at microphone) I think Cowessess is really paving the way for other communities to follow suit. So, congratulations on that.

(CRAIG MURRAY – SASKATCHEWAN RESEARCH COUNCIL – speaking at microphone) We look forward to work together to make renewable energy a tangible reality in Saskatchewan's future. Thank you very much.

[Applause]

(DAVID VONESCH – speaking at microphone) This project should be celebrated, its story should be shared and all of us should work to build on this legacy. Thank you.

(CADMUS DELORME) So, on behalf of Cowessess First Nation, on behalf of the council, on behalf of all of the good-looking citizens, I just want to thank all of you for coming to take the time to come and celebrate with us.

[Music]

(Fade to black)
The facility came online in 2013 as a joint venture of Cowessess First Nation and the Saskatchewan Research Council. The project began with an 800-kilowatt wind turbine and lithium-ion battery storage. The 400-kilowatt solar array was added in the fall of 2018. Fully integrated into the existing system, it was the largest solar project in the province at the time.
The facility can produce over 2,800 megawatt-hours of power per year. That's enough to supply 340 homes. SaskPower signed a 20-year contract to buy the electricity from the project, with profits going to Cowessess First Nation.
The hybrid nature of the facility helps overcome the challenges faced by renewable energy systems.
The solar array generates power only when there is enough sunlight. Output from the wind turbine rises and falls with the amount of wind that is blowing. Both systems feed into the batteries, which smooth out the combined output. Electricity is stored when production is high, and used when the sun is not shining and the wind is calm.
The project supports 12 small to medium-sized enterprises, including three Indigenous businesses. It also helps train and provide jobs for Cowessess First Nation people.
This hybrid project shows how renewable energy can help build a sustainable future. It's on the leading edge of solar technology in Canada. Saskatchewan is a great place to start and grow a clean technology company.
Date modified: