Karina LeBlanc's Field of Dreams
Organization:

City of Maple Ridge

Region: British Columbia
Impact:

Maple Ridge children have a place to train for a future in athletics.

Project:

Karina Leblanc Field

Category: Youth, Community economic development
Story Date: 2018-08-04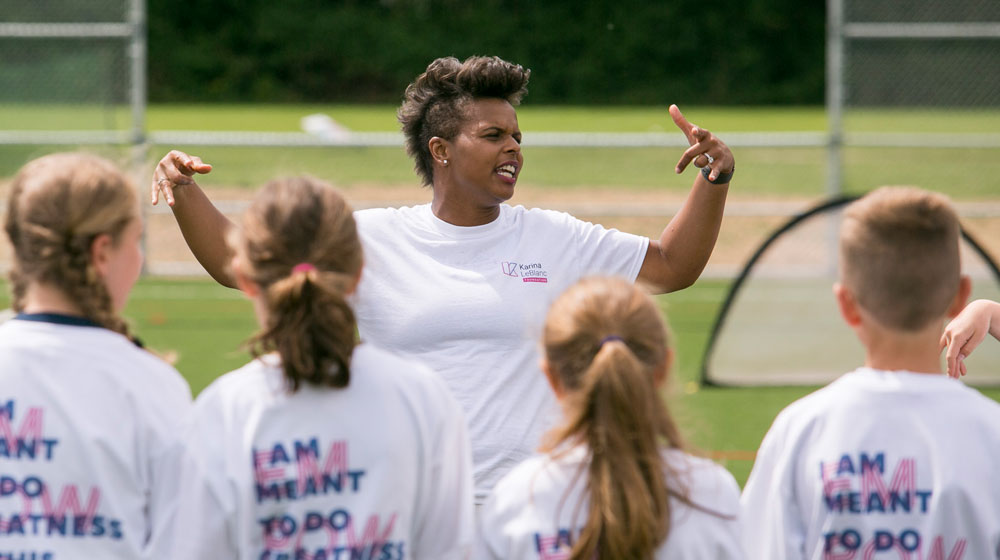 Sport has always been a passion for Canadian Olympic soccer star Karina Leblanc. Now she has a sports field in her very own town of Maple Ridge, BC. There, she can share this passion with the next generation of Canadian athletes.
In May 2018, the City of Maple Ridge officially opened Karina Leblanc Field at Merkley Park in honour of Canada's longest standing national soccer player.
With $500,000 in funding from the Canada 150 Community Infrastructure Program, the City of Maple Ridge invested $2.5 million in this all-weather field with:
improved parking
upgraded pathways
new play structures
fencing and backstops
upgraded field lighting
a new drainage system
The park also features a new piece of public art called "Field of Dreams". It represents the history of Maple Ridge, including Leblanc's rise to sports excellence.
Karina began her athletic career on the field that carries her name. Now she has 5 FIFA World Cups and 2 Olympic Games under her belt, including a bronze medal in London 2012.
Karina moved to Maple Ridge from Dominica at the age of 8. It was sport that helped a once shy and sometimes bullied young girl gain the self-confidence and passion that drove her to pursue her dreams.
Sport also helped Karina inspire others through her work as a UNICEF ambassador and in her post-athletic career as a motivational speaker through her Karina Leblanc Foundation.
Just before the ribbon cutting to open the field, Karina ran a leadership session for 20 youth mentors at her alma mater Maple Ridge Secondary School. Following the grand opening, these young women helped Karina run a free sports clinic for young soccer players from Maple Ridge.
The Karina LeBlanc Field is more than an economic investment. It is an investment in the quality of life for all residents of Maple Ridge. It serves as a reminder of what people can achieve through hard work and determination.
Date modified: