Community Adjustment Fund
Item 1: Slideshow Item 12517
Canada's Economic Action Plan
Item 2: Slideshow Item 12516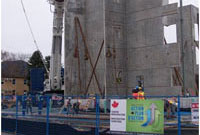 Construction of Resource Centre in Chilliwack, B.C. Photo credit: Sto:lo Research Centre
Item 3: Slideshow Item 12515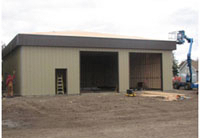 Construction of a storage facility in Bow Island, Alberta
Item 4: Slideshow Item 12514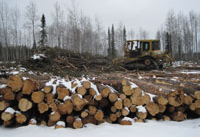 Clearing trees infected with Dwarf Mistletoe to prevent spread of disease in Boyle, Alberta
Item 5: Slideshow Item 12511
Construction of new building to house pelleting and processing equipment in Swan River.
Item 6: Slideshow Item 12510
Renovation of the Ukrainian National Home in the town of Vita (RM Stuartburn), Manitoba.
Item 7: Slideshow Item 12509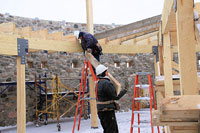 Restoration of the historic Bell Barn in Indian Head, Saskatchewan. Photo credit: Dan Loran
Item 8: Slideshow Item 12508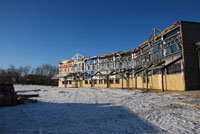 Construction of 30,000 square-foot town square in Buffalo Narrows, Saskatchewan
Item 9: Slideshow Item 12507
Construction of campground kitchen and boat launch in Green Lake, Saskatchewan
Item 10: Slideshow Item 12506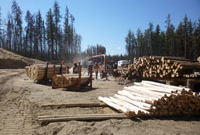 Implementation of forest fire salvage program in Pelican Narrows, Saskatchewan
Item 11: Slideshow Item 12505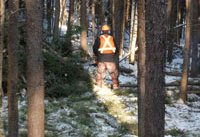 Construction of firebreaks, fuel breaks and greenbelts around twenty Saskatchewan communities
The Community Adjustment Fund (CAF) has now ended and funding is no longer available.
What was the Community Adjustment Fund?
The Community Adjustment Fund (CAF) provided $1 billion over two years to address the short-term economic needs of Canadian communities impacted by the global economic downturn. This national economic stimulus initiative supported projects that created jobs and maintained employment in and around communities that experienced significant job losses and lacked alternative employment opportunities.
Launched in May 2009, CAF was part of Canada's Economic Action Plan CEAP1, the Government of Canada's plan to help ensure recovery from the global economic downturn. By focusing on the creation of short-term employment to support communities and the sectors that contribute to their viability, CAF played a distinctive role in relation to other economic stimulus measures included in Canada's Economic Action Plan.
Western Economic Diversification Canada (WD) delivered the fund in the four western provinces, investing $289 million to help communities reduce the short-term impacts of the economic downturn. The primary goal of CAF was immediate job creation.
What is the status of the Community Adjustment Fund?
The Community Adjustment Fund ended on March 31, 2011.
What has been accomplished?
WD approved 314 CAF projects, and all available project funds for Western Canada were committed. For information on funded CAF projects in each of the western provinces select the links that follow: Alberta | British Columbia BC1 | Manitoba | Saskatchewan | Job Opportunities Program - British Columbia BC-jobs.
Who can I contact for more information?
For additional information on CAF, contact the WD regional office nearest you. To review other Western Economic Diversification Canada funding programs available, visit WD Programs.
For more information on the federal Economic Action Plan, visit Canada's Economic Action Plan CEAP2 website.