Minister's message
I am pleased to report progress made on making Canada a world-leading centre for innovation and science, helping create good, well-paying jobs, and strengthening and growing the middle class.
The work of the Innovation, Science and Economic Development Portfolio includes promoting innovation and science; supporting the commercialization of more research and ideas; providing more Canadians with the skills to participate in a global and digital economy; helping small businesses grow through innovation, access to capital and trade; promoting increased tourism in Canada; and supporting scientific research and the integration of scientific considerations in our investment and policy choices.
This year, the Portfolio organizations continued their work to deliver on the Government's Budget 2017 commitment to develop an Innovation and Skills Plan. The plan's focus on people and addressing the changing nature of the economy is a focus for the Portfolio's programs.
WD continued to develop and diversify the western Canadian economy through the delivery of its investment programs, services, and convening activities. This has helped businesses become more innovative and competitive. The department also supported regional and community economic development opportunities, including those that involved Indigenous peoples and other underrepresented groups.
It is my pleasure to present the 2016–17 Departmental Results Report for Western Economic Diversification Canada.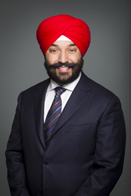 The Honourable Navdeep Bains
Minister of Innovation, Science
and Economic Development