Statistical Reporting Overview
The following information provides additional context to the statistical details found in WD's 2014-2015 statistical report (Annex B – "Statistical Report on the Access to Information Act").
Requests Received Pursuant to the Access to Information Act
A. Formal Requests
For the period of April 1, 2014 to March 31, 2015, WD received 13 formal requests for information pursuant to the Access to Information Act. This is lower than average for the department over the last five years, although there was an unprecedented increase in 2013-2014.
The accompanying chart shows the comparison of new of requests received by the department over the past five years.
Text version: 5-Year Comparison of the Number of Requests Received
The category of requesters for 2014-2015 is broken as follows:
Four (30.8 percent) each from the media and organizations;
Three (23 percent) from the general public; and
One (7.7 percent) each from academic and business (private sector).
The accompanying chart shows a five-year comparison of sources of access requests to WD.
Text version: Sources of Formal Request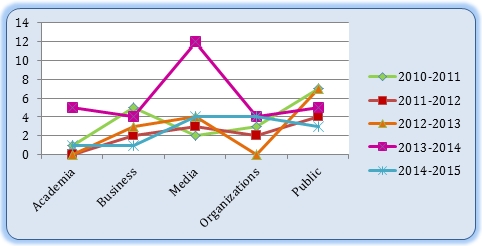 In total, 14 access requests were completed during the reporting period, including two requests carried forward from 2014-2015. One request was carried forward into the 2015-2016 fiscal year.
The disposition and completion times of the completed requests are broken as follows:
| Disposition of Compleated Requests | 1-15 Days | 16-30 Days | 31-60 Days | 61-120 Days | TOTAL |
| --- | --- | --- | --- | --- | --- |
| All disclosed | 3 | | 0 | | 3 |
| Disclosed in part | | 4 | 1 | 3 | 8 |
| All exempted | 1 | | | | 1 |
| No records exist | 2 | | | | 2 |
| Request transferred | | | | | |
| Request abandoned | | | | | |
| Total | 6 | 4 | 1 | 3 | 14 |
B. Informal Requests
As a result of the posting of summaries of closed access requests of the department's public website and the Open Government portal, WD processed 15 requests for copies of previously disclosed access requests. This is a 47 per cent increase from 2013-2014.
No application fees or response timelines apply to these informal requests; however, WD responded to all requests in 10 days or less.
Extensions of Time Limits and Consultations
Section 9 of the Act provides for the extension of the statutory time limits if the request is for a large volume of records or necessitates a search through a large volume of records and meeting the original time limit would unreasonably interfere with the operations of the department; also, if consultations are necessary.
In 2014-2015, WD required extensions due to interference with departmental operations on two requests. These extensions may be considered if processing the request within 30 days would require the transfer of resources from a business unit to the ATIP office, monopolize a significant portion of the resources of the office of primary interest to the detriment of its core functions, or the request would use such a high proportion of the resources of the ATIP Unit that it would have a significant negative impact on the processing of other requests.
WD also required extensions to complete necessary consultations with other government departments and/or third parties on four requests which were completed within 2014-2015.
Exemptions and Exclusions Invoked
Of the 14 requests completed in 2014–2015, exemptions were applied pursuant to the Act on nine requests. If three different exemptions were applied to a request, one exemption under each relevant section would be reported for a total of three; however, if the same exemption was claimed several times in the same request it is captured only once in the statistics.
The accompanying table compares the number of exemptions applied during 2014-2015 and 2013-2014 fiscal years.
Exemption
Invoked
Subsection
2014–2015
2014–2013
13(1)
(c)
0
1
14
(a)
(b)
4
3
1
0
16(1)
(c)
0
1
16(2)
0
1
16.1(1)
(a)
0
0
(a)(ii)
3
0
18
(b)
1
0
19(1)
6
7
20(1)

(b)
(c)
(d)

9
7
4
4
3
3
21(1)
(a)
(b)
(c)
(d)
8
7
6
4
4
4
1
1
22
1
0
23
2
1
26
1
1
Section 19(1) was the most utilized exemption during the reporting period, having been applied to seven requests. Sections 20(1) and 21(1) were applied to four requests each.
The Act does not apply to certain materials such as published material pursuant to Section 68 or confidences of the Queen's Privy Council pursuant to Section 69. WD did not invoke either section during this reporting period.
Other Government Department Consultations
In 2014-2015, WD was consulted by other federal departments on six occasions. This is a decrease of 75 per cent from 2013-2014 and 2012-2013. No consultations were received from other organizations or other levels of government.
WD recommended full disclosure of information pertaining to our department on two consultation requests.
WD recommended partial disclosure of information pertaining to our department on four consultation requests.
In total, WD reviewed 163 pages.
WD responded to four consultations within 15 days, and the remaining two consults within 24 days or less.
Complaints, Audits and Investigations
WD received one administrative complaint pursuant to the Access to Information Act in 2014–2015, and while the investigation is ongoing, the department has implemented changes to its internal briefing processes as a result.
There were no audits undertaken or concluded during the reporting period. Further, there were no appeals or applications submitted to the Federal Court.
Fees Collected
Access to Information fees collected during the reporting period totalled $118.30, including application and reproduction fees. Additionally, one $5 application fees was refunded as the request was processed informally. During the same period, WD waived reproduction fees totalling $96.80.
Operational Costs Associated with Administering the Act
WD's cost for administrating the Access to Information Act in 2014-2015 is estimated as follows:
the ATIP Unit salary costs, including a portion of the ATIP Coordinator's and Deputy ATIP Coordinator's salaries, and 50 percent of the ATIP Officer's salary (a total of .64 FTE/year);
goods and services, including professional services contracts and other expenses, including the ATIP case management system licensing, supplies, and ATIP unit travel and training costs;
additional salary-related costs, which incorporate estimated costs for other departmental officials to retrieve, review and make recommendations concerning records responding to access requests, information technology support, and translation of staff awareness materials and access-related documents.
| | |
| --- | --- |
| ATIP Unit Salaries | $54,525 |
| Goods and Services | $8,389 |
| Total ATIP Unit Costs | $62,914 |
| Additional salary-related costs | $8,416 |
| TOTAL DEPARTMENTAL COSTS | $71,330 |
The additional salary-related costs included above are not all captured in the Statistical Report, but provide a more complete picture of the overall cost to the department to administer all aspects of its activities related to the Access to Information Act.