Business Development
The following document is out of date.
Archived Content
Information identified as archived on the Web is for reference, research or recordkeeping purposes. It has not been altered or updated after the date of archiving. Web pages that are archived on the Web are not subject to the Government of Canada Web Standards. As per the Communications Policy of the Government of Canada, you can request alternate formats on the "Contact Us" page.
Embracing Opportunity in Heavy Oil Country
Kara Johnston, Director of Energy, Entrepreneurship and Aboriginal Programming for Lakeland College, looks on as Minister Yelich delivers her remarks.
Alberta's Lakeland College is helping to address the province's increasing need for workers skilled in heavy oil production by expanding training and facilities at its Lloydminster campus.
According to the Petroleum Human Resources Council of Canada's labour market outlook, the oil and gas industry will need to fill almost 10,000 positions by 2015.
To help fill the gap, the college introduced a two-year Heavy Oil Power Engineering diploma program in September 2012, supplementing the one-year Heavy Oil Operations Technician certificate program already offered.
Lakeland's power engineering program is unique in Canada because of the addition of the heavy oil training, a change that was important to the college's industry partners.
Also significant is that companies will be able to upgrade workers' heavy oil skills through new evening, weekend and online courses.
To support the growth of the program, WD is investing in four pieces of specialized heavy oil processing simulators and equipment that will allow students to simulate heavy oil upgrading and steam-assisted gravity drainage processes.
"This initiative will help to develop a highly skilled and flexible workforce, while ensuring small- and medium-sized businesses remain competitive in the local and global marketplace," Minister Yelich said when announcing the investment in March 2013.
The equipment will be housed at the College's new Petroleum Centre. The expansion, expected to be complete by early 2015, will offer a large power engineering and heavy oil lab with three steam boilers, water treatment equipment, a turbine generator and simulation training spaces.
"We're in the heart of heavy oil country out here, so we're trying to be very responsive to both the industry and our students," said Kara Johnston, Director of Energy, Entrepreneurship and Aboriginal Programming. "The expansion gives us a chance to train our students to be complete operators so that when they hit industry, they are more fully trained and they have a greater depth of knowledge."
WD's investment builds on previous support, announced in February 2012, to Lakeland College for two mobile pyrolysis units to test, evaluate and demonstrate biochar products for the agricultural and environmental marketplace.
Enhancing animal health testing in the West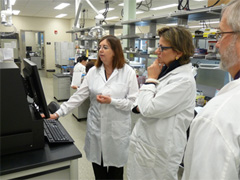 Maggie Schwab, Area Supervisor, PDS Microbiology Lab (left) and Dale Godson, PDS Microbiologist (right) show Minister Yelich lab equipment.
Federal support is helping Saskatoon's Prairie Diagnostic Services Inc. (PDS) purchase new equipment that will give western Canadian veterinarians and animal producers access to enhanced diagnostics testing services.
The federally-funded equipment will support the development of new testing for toxins in animal feeds, and enhance existing services in other areas. This will allow veterinarians to maintain the health of food animals and wildlife while supporting the export of food products from all of Canada.
"Our Government is committed to helping businesses develop and maintain a competitive advantage," said Minister Lynne Yelich when she announced WD funding to the laboratory in April. "A strong private sector and regional economies are crucial to job creation and long-term prosperity for Canadians."
The increased testing capabilities will also allow PDS to better help western Canadian producer groups meet domestic and international regulatory standards. For example, tests for detecting bacteria and viruses using molecular biology techniques will be expanded. This testing methodology is being utilized to a much greater extent in testing for export. Molecular diagnostics is also playing an increasingly important role in the early diagnosis of serious diseases, including avian and swine influenza.
"PDS is very excited about the opportunity that this investment provides," said PDS CEO Marilyn Jonas. "The new services will enhance the value of our laboratory to Western Canada's animal production and veterinary community by expanding the breadth and depth of our diagnostic capability and expertise. We see this as important for individual clients and as a key component of our broader role in animal disease detection and surveillance in the western Canadian region, and in Canada as a whole."
Jonas explained that this equipment will provide western Canadian industry with opportunities that don't currently exist in the region.
"We're in constant contact with our veterinarian clients and through them to producers," said Jonas. "Some of the new testing that will be provided through this investment is either not currently available in Western Canada, or not available to the extent that they would like it to be."
Strengthening British Columbia's Marine Industry
Minister Yelich speaks at an announcement in support of Western Canada's Shipbuilding Action Plan at Camosun College.
A growing focus on marine, aerospace and resource industries in the West will require a new generation of skilled workers- and Camosun College in Victoria is committed to providing them. WD is helping Camosun reach that goal with funding for its new Marine, Aerospace, and Resource Industry Centre for Trades and Technology Support (MARCenTTS).
This investment is part of Western Canada's Shipbuilding Action Plan, which helps small- and medium-sized businesses take advantage of opportunities created through the National Shipbuilding Procurement Strategy. The Strategy, which is the Government of Canada's 30-year, $33 billion initiative for renewing the federal fleet, uses Industrial and Regional Benefits (IRBs) to ensure Canadian companies benefit from these major federal contracts.
"Over the last year, our Government's Shipbuilding Action Plan has helped contribute to the thriving and competitive shipbuilding industry in Western Canada," said Minister Lynne Yelich at the funding announcement in January. "Today's investment supports our Plan by ensuring that Canadians have the skills needed to address the demand for 30,000 skilled workers in the shipbuilding, repair and resource industries."
Minister Yelich joins (left to right) Wärtsilä's Mark Keneford, and Camosun College's Kathryn Laurin and Dr. Tom Roemer at an announcement at Camosun College.
Federal funding is being used to buy and install marine, aerospace and trades training equipment, improve infrastructure and facilities for applied research and innovation, and enhance the College's Technology Access Centre.
In addition to providing small- and medium-sized businesses with qualified staff, MARCenTTS will offer them access to innovative problem-solving resources.
"In order to create a true centre of excellence to help regional industry be more successful, we developed a more integrating concept that combines traditional training with the opportunity to be innovative and to create new approaches and spot solutions through applied, practitioner-led research," said Dr. Tom Roemer, Vice President for Strategic Development.
The MARCenTTS facility will also incorporate a Centre for Trades Education and Innovation, now under construction, the Vancouver Island Centre for Advanced Manufacturing and Prototyping, and a Technology Access Centre to help industries adopt and commercialize new technologies.