Section III : Supplementary Information
Financial Highlights
Future-Oriented Condensed Statement of Operations and Departmental Net Financial Position

For the Year (ended March 31)


($ thousands)

$ Change
Forecast
2013–14
Estimated Results
2012–13
Total expenses
(16,622)
180,172
196,794
Total revenues
(2)
3
5
Net cost of operations before government funding and transfers
(16,620)
180,169
196,789
Departmental net financial position
(134)
(6,246)
(6,112)
Future-Oriented Condensed Statement of Financial Position

For the Year (ended March 31)

($ thousands)

$ Change
Forecast
2013–14
Estimated Results
2012–13
Total net liabilities
(6,474)
82,367
88,841
Total net financial assets
(6,257)
75,690
81,947
Departmental net debt
(217)
6,677
6,894
Total non-financial assets
(351)
431
782
Departmental net financial position
(134)
(6,246)
(6,112)
Future-Oriented Financial Statements
The future-oriented financial highlights presented in the table above serve as a general overview of WD's financial operations. For the complete set of future-oriented financial statements, visit WD's website.[12]
List of Supplementary Information Tables
All electronic supplementary information tables[13]listed in the 2013–14 Reports on Plans and Prioritiescan be found on WD's website.
Details on Transfer Payment Programs;
Greening Government Operations;
Horizontal Initiatives;
Sources of Respendable and Non-Respendable Revenue;
Up-Front Multi-Year Funding; and
Upcoming Internal Audits and Evaluations over the next three fiscal years.
Tax Expenditures and Evaluations Report
The tax system can be used to achieve public policy objectives through the application of special measures such as low tax rates, exemptions, deductions, deferrals and credits. The Department of Finance publishes cost estimates and projections for these measures annually in the Tax Expenditures and Evaluations publication. The tax measures presented in the Tax Expenditures and Evaluations [14] publication are the sole responsibility of the Minister of Finance.
Section IV: Other Items of Interest
Organizational Contact Information
WD's contact details are as follows:
E-mail Address: info@wd-deo.gc.ca
Mailing Address: Suite 1500, 9700 Jasper Avenue, Edmonton, Alberta T5J 4H7
Telephone: 780-495-4164
Toll Free: 1-888-338-9378
Teletypewriter (TTY): 1-877-303-3388
Fax: 780-495-4557
Website: www.wd-deo.gc.ca/eng/home.asp
Additional Information
Section 41, Official Languages Act
In 2013–14, WD will continue to work with other federal organizations to renew the Economic Development Initiative[15] as part of the Roadmap for Canada's Linguistic Duality 2013–2018.[16] The department undertakes measures through a Results-Based Action Plan for the Implementation of Section 41 of the Official Languages Act to enhance the vitality of western Canadian Francophone Official Language Minority Communities, support and assist them in their development and foster the full recognition and use of both English and French in Canadian society.
Strategic Planning Framework
The Strategic Planning Framework on the following page depicts the logical relationship between WD's strategic outcome and its programs. The Framework also demonstrates how the department's 2013–14 priorities contribute to achieving its strategic outcome and how WD contributes to Government of Canada outcome areas.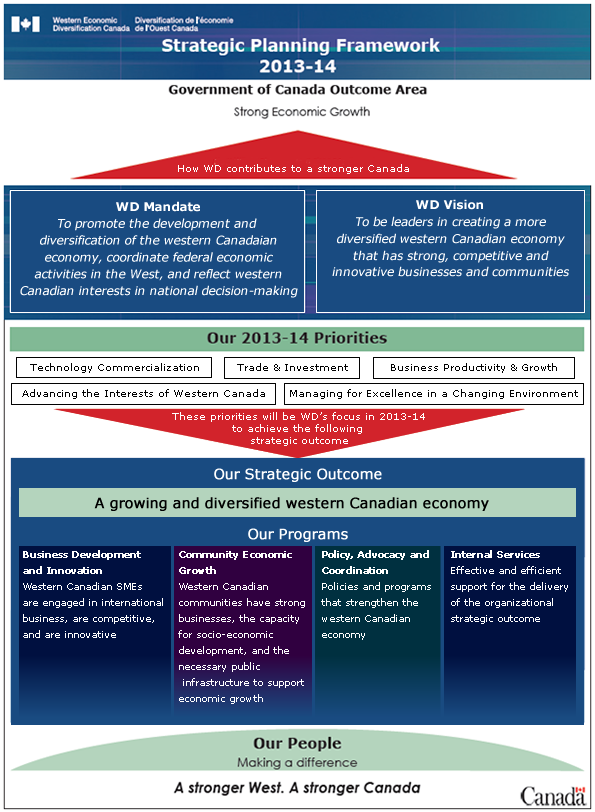 Text version of Strategic Planning Framework 2013-14