Policy, Advocacy and Coordination
The following document is out of date.
Archived Content
Information identified as archived on the Web is for reference, research or recordkeeping purposes. It has not been altered or updated after the date of archiving. Web pages that are archived on the Web are not subject to the Government of Canada Web Standards. As per the Communications Policy of the Government of Canada, you can request alternate formats on the "Contact Us" page.
Canada's Farm Progress Show Welcomes the World
(From left): Former Minister of Tourism, Parks, Culture and Sport for Saskatchewan, Bill Hutchinson; MP Tom Lukiwski; Rob O'Connor, Show Manager, Farm Progress Show; and Mark Allan, President and CEO, Evraz Place at funding announcement for the Incoming Buyers Program.
After earning the distinction of being the largest agriculture trade show in Canada by the Trade Show News Network, the 35th annual Farm Progress Show broke its own attendance record yet again this year.
Show Manager Rob O'Connor credits the Government of Canada's Incoming Buyers Program (IBP) and its unique ability to attract foreign investors to the Farm Progress Show for its success.
"The Incoming Buyers Program brings businesses from around the world to Regina to develop opportunities that will create new jobs and economic growth for Canadians," said MP Tom Lukiwski. "This investment builds on the success of WD's support for the previous Incoming Buyers Program and illustrates our Government's commitment to supporting Canadian firms as they pursue exporting opportunities in the global marketplace."
The program, which has been in effect now for four years, brings businesses from around the world to Regina to develop opportunities that will create jobs and economic growth.
"By offering this carrot as a gesture to international buyers, they choose our show over those farm shows in France, the U.S. and a number of other countries," said O'Connor. "It was a fantastic year. Our international numbers have increased every year for the past three years thanks to this program."
A record 652 international buyers from 55 countries, including China, India, the United States, Russia, Kazakhstan, Australia and Mongolia, were in attendance. There were also some 806 exhibitors – another record.
Each international buyer spends, on average, $2.5 million at the show, which is a tremendous return on investment, noted O'Connor.
Sales were brisk for land preparation equipment, harvesting equipment and tractors, said O'Connor, adding that this year, 24 companies used the venue to launch new products.
Saskatoon Hosts Aerospace Forum to Showcase Expertise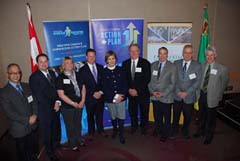 Minister Yelich meets with Prime Contractors at the Saskatchewan Aerospace & Defence Opportunities Forum. From left: Stanley Ing, Mercedes-Benz Canada; Chris Dekker, CEO, Enterprise Saskatchewan; Laurie St.Louis, DEW Engineering; Brian Carter, President, Seaspan Shipyards; Minister Yelich; Eugene J. Stewart, MS2; Gerhard (Gary) Hones, LM Canada; Colin Preston, DEW Engineering; Doug Brown, General Dynamics Canada.
Saskatchewan's small- and medium-sized enterprises (SMEs) gathered in Saskatoon earlier this year to meet with major players in Western Canada's dynamic and growing aerospace, defence and shipbuilding sectors.
WD and Enterprise Saskatchewan partnered to host the Saskatchewan Aerospace and Defence Opportunities Forum, which enabled the province's SMEs to establish valuable business connections with industrial titans, such as Seaspan Marine, General Dynamics and General Electric.
"Our Government is committed to supporting small and medium-sized businesses by connecting them with opportunities for reaching new markets throughout Western Canada," said Minister Yelich.
Mark Noete, Director of Manufacturing at Saskatoon's SED Systems, which manufactures and designs electronic systems and units, said the Forum was an excellent opportunity to showcase his company's expertise.
"Anytime you can get that quality of suppliers in our city it is exceptionally valuable," said Mr. Noete, adding that Seaspan, GE and others visited SED during their time in Saskatoon.
"
It helps you build relationships with them, and it helps them understand your capabilities.
"
The Forum demonstrated the exciting opportunities resulting from the federal government's Industrial and Regional Benefits (IRB) policy, which requires companies that have been awarded federal projects to re-invest 100 percent of the contract back into Canadian industry. As well, Seaspan and other companies made presentations at the Forum to explain what they require from SMEs to fulfill their contracts, enabling them to learn how they could capitalize on these key opportunities. The event particularly sought to showcase Western Canada's shipbuilding capabilities, which received a huge boost in October 2011 when the federal government's $33 billion National Shipbuilding Procurement Strategy (NSPS) was announced.
"Many western businesses will have the opportunity to capitalize on secondary opportunities available through the strategy by offering their specialized expertise, skilled labour and products," explained Minister Yelich.
The NSPS is expected to create about 4,000 high-value jobs on the West Coast, and to produce a range of economic opportunities for local small- and medium-sized businesses throughout Western Canada.
Among those opportunities will be skilled work in a variety of sectors, such as steel manufacturing, information technology, and defence systems development and integration. As well, SMEs across the West will benefit not only through the construction of the vessels, but from work related to repairing and refitting.

top of page
Improved Testing Capabilities for Manitoba's GLACIER Facility
Global Aerospace Centre for Icing and Environmental Research (GLACIER) in Thompson, Manitoba. Photo courtesy of Rolls-Royce.
The Canadian Environmental Test and Research Center Inc. (EnviroTREC) recently received WD funding towards the purchase of new equipment to improve and expand environmental aerospace testing in Manitoba.
This equipment will be used at the Global Aerospace Centre for Icing and Environmental Research (GLACIER), a joint-venture partnership between jet engine manufacturers Pratt & Whitney Canada and Rolls-Royce Canada.
The GLACIER test facility is located in Thompson, where the subarctic climate allows for simulation of the icy conditions an engine may have to endure when flying through clouds at freezing temperatures.
Although temperatures in this northern Manitoba city stay well below zero for a significant part of the year, the new funding will allow the facility to offer more advanced types of testing outside of the coldest months. These added capabilities will bring in new contracts, and boost the economy.
"Our Government's top priority is creating jobs, growth and long-term prosperity," said Minister Yelich. "This investment will support the aerospace industry in Manitoba by strengthening the supply chain and providing opportunities to commercialize new products."
Through this project, specialized testing equipment will be purchased for testing aerospace engine emissions and alternative aerospace fuels, as well as for aerospace engine design validation.
WD funding for this project builds on a previous investment towards the creation of the GLACIER facility. Federal support for the development of GLACIER, which opened in October 2010, promoted cutting-edge technology and created high-quality jobs and educational opportunities in northern Manitoba.
The western Canadian aerospace industry employs approximately 27,000 people and generates more than $4.5 billion in annual revenues, and Manitoba boasts the largest aerospace industry in Western Canada. This new investment will help keep Manitoba and Western Canada at the forefront of aerospace research and development.