Innovation
The following document is out of date.
Archived Content
Information identified as archived on the Web is for reference, research or recordkeeping purposes. It has not been altered or updated after the date of archiving. Web pages that are archived on the Web are not subject to the Government of Canada Web Standards. As per the Communications Policy of the Government of Canada, you can request alternate formats on the "Contact Us" page.
Growing the food industry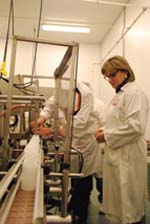 Minister Yelich and Food Centre staff operates a bottling machine for sour cherry and apple juice.
Canada's food growers have always enjoyed a strong reputation world-wide. But as competitors race to bring new products to market, innovation is just as important as tried-and-true techniques. Leading that race in Saskatchewan is the Food Industry Development Centre, thanks in part to WD.
The Food Centre, as it's more commonly known, recently received an investment from WD to purchase new equipment for use in product and process development, which will enhance domestic and international competitiveness.
The availability of the new equipment will aid users in finding ways to reduce costs, enhance food safety, increase product lines and become more competitive. Investing in research and development facilities, such as the Food Centre, provides an integrated approach to developing the food industry in Western Canada.
"The new funding has allowed us to adopt new technologies that will diversify our services and spur innovation in the industry," said Dan Prefontaine, President of the Centre. "By giving local companies access to the new technology, we're helping them focus their resources and reduce the risks that come with building their business and entering new markets."
Prefontaine said the West can expect to see long-term benefits for Saskatchewan's agriculture industry as a whole. New research and development activities are now in progress for a wide variety of value-added food products.
Federal support like this is particularly useful in Saskatchewan, where 300 food processors create $2.5 billion in annual sales.
"We are pleased to promote increased competitiveness and productivity in Saskatchewan's food industry," said Minister Yelich. "WD's investment will help food processors create high-value jobs and stimulate economic growth across the province."
Testing state-of-the-art imaging technology
Minister Yelich announces an investment towards the Centre for Non-Destructive Inspection Technologies.
When it comes to the structural integrity of airplane or automotive parts, quality control is critical. At Red River College's new Centre for Non-Destructive Inspection Technologies (CNDI) in Winnipeg, the objective is to detect flaws in solid metal and composite objects without damaging them.
With federal support from WD, the CNDI is providing access to state-of-the-art non-destructive imaging equipment to inspect products before they reach the assembly floor. Aerospace companies with access to CNDI's new imager are now able to detect hidden flaws in materials more efficiently and effectively, and with greater confidence.
"This exciting project will create a competitive advantage for key sectors in Manitoba's economy," said Minister Yelich. "This technology will enable local companies to produce better and more cost-effective products that will help create jobs and growth in our communities."
The most sophisticated equipment at the centre is the laser ultrasonic testing scanner, which uses one laser to generate an ultrasonic wave in the part being tested and a second to measure the wave's path. Any flaws will turn up in the form of changes to the path.
"The technology is incredibly sensitive," explained Fred Doern, chair of the college's Mechanical, Manufacturing and Communications program. "It was originally developed to study a modern stealth jet fighter. But it could very well be used on bus, airplane or auto parts."
According to Doern, there's a critical shortage of personnel trained in the use of these new imaging technologies, both at the senior and entry level.
Helping to address this shortage, an education program will be created in partnership with industry to train, certify and upskill the non-destructive labour pool in Manitoba. WD funding was also used to purchase X-ray tomography equipment (the technology behind hospital CAT scans) and data analysis software. The new facility, located at the college's industrial campus at Magellan Aerospace in Winnipeg, will serve as both a testing facility for the local aerospace industry and a teaching and certification tool for the college.

top of page
Cosmic rays to improve mining exploration
Looking for valuable mineral deposits while making a minimal impact on the environment has inspired a team of scientists in Vancouver to come up with a way to use a free resource: cosmic rays.
The technique allows geologists to take three-dimensional pictures of what lies beneath the surface, in the same way a CAT scan records images of the inside of a patient's body. But instead of using artificially generated rays, these geologists record the paths taken by muons, subatomic particles which are constantly bombarding the Earth. The density of the underground material affects each muon's path through the Earth, and detectors translate that data into information about the location and kind of ore.
A recent WD investment in Advanced Applied Physics Solution (AAPS) for their muon geotomography project helped demonstrate new technology that will enable high precision mineral exploration of dense ore deposits.
Led by UBC Professor Doug Bryman, who patented the ore-locating technology, the AAPS team has already built one prototype detector and tested it at a mine on Vancouver Island.
"We're now in the process of building additional detectors thanks to the WD funding, and we're going to take them to areas of the province no one has looked for ore resources before," said Konstantine Sarafis, Vice-president of Business Development at AAPS.
"Mining is a major contributor to our resource-based economy. By investing in this project, our Government is ensuring that our key sectors develop the tools necessary to grow and provide highly-skilled jobs for Canadians," said Minister Yelich. "Our Government will continue to do its part to help build a more globally competitive and productive mining sector."
Diversifying aerospace technology development
Wind Tunnel Fans at the testing centre [L-R: Michael Kulkelko (WestCaRD), Brent Ostermann (StandardAero), Ross Hornby (GE Canada), Minister Yelich, Kim Olson (StandardAero), Vic Gerden (WestCaRD).
A new engine-testing laboratory is poised to help keep Manitoba at the leading edge of aerospace technology development, thanks to an investment from WD.
West Canitest R&D Inc. (WestCaRD) is teaming up with two industry leaders to turn an aircraft winter certification facility into a year-round testing operation. WD funds helped to purchase specialized equipment to refine aircraft engine performance, reduce pollution, and keep products competitive.
The $50-million GE Aviation Engine Testing, Research and Development Centre opened this year at Winnipeg's James A. Richardson International Airport as part of GE and Standard Aero's efforts to stay on the forefront of cold-weather engine development. Now, through the WestCaRD contribution, it is expanding into a range of new fields, including smart sensors, high-speed data systems and emissions reduction equipment.
"Our Government's support solidifies Manitoba's place in global aerospace as the world's leading cold weather testing location," said Minister Yelich. "Investments like this are vital to fostering economic growth and creating high value jobs for Western Canadians."
The new centre will also be working with Red River College and the University of Manitoba, schools that specialize in aerospace technology.
By enabling this key sector to continue to succeed and thrive in a globally competitive environment, WD is helping the Manitoba aerospace industry contribute to a stronger and more diverse western Canadian economy.
Keeping up with the mining sector
Minister Yelich announces significant investment towards specialized training equipment to be used by SIAST's new Mining Engineering Technology program.
When a resource sector booms, the search for qualified workers is on. In Saskatchewan, the demand for mining engineers trained on the latest equipment has never been higher. Five new mines are expected to open in the province over the next three years alone, and several more are expanding their operations.
Meeting that demand is the mission of the new Mining Engineering Technology Program at the Saskatchewan Institute of Applied Science and Technology (SIAST). Funding for the new program, including an investment from WD, is now in place, meaning the first students will be in classes this fall.
WD funds were used to purchase a wide variety of training equipment, from geophysical survey gear to computers and bore-hole cameras.
"We're buying the latest technology because we want to ensure our students learn on the type of equipment they'll use when they launch their careers with the mining industry," said SIAST's Dean of Technology, Jamie Hilts.
While other western provinces already have similar programs, the new SIAST courses are the first of their kind in Saskatchewan.
"Our Government recognizes the role this key sector plays in job creation and economic growth," says Minister Yelich. "We are proud to invest in equipment for this exciting new program, which will create jobs and support the rapidly-growing mining industry."
Two years ago, the industry was looking for about 45 qualified mining technologists in the province each year. By 2017, more than eight times as many will be needed. When fully operational, the new course should be able to effectively address potential labour shortages and strengthen Saskatchewan's mining industry, now and in the future.

top of page
Giving Canadian athletes a competitive advantage
Minister Yelich helps push new sports and wellness technology development with (from left) Mr. Claude Lemieux, CEO of Graf Canada; Dr. Jon Kolb, Director of Sport Science, Medicine, and Innovation for Canada's Own the Podium; Mr. Troy Crowder, President of True Stride and (in driver's seat) Brian Hughes, member of SAIT Polytechnic's fabrication lab team.
Sledding headfirst downhill at 130 km/h, chin just millimeters from an ice track, makes skeleton racing one of the most extreme and exciting sports. Winning takes more than courage and practice, though. That's where the Sports and Wellness Engineering Technology Institute (SWETI) comes in.
The Institute is playing a critical role in keeping Canada's skeleton racers at the top of their game. Two years after SWETI engineers took on the challenge of building a better sled in 2008, Canadians took four out of the top six spots at an international competition in Calgary. An investment from WD allowed SWETI to apply the same expertise to the sports and wellness sector as a whole. The funding will help the Institute improve its capacity for prototype design and fabrication and mechanical design engineering.
"Our Government is committed to supporting Alberta's growing strengths in developing innovative new products and technologies," said Minister Yelich. "By enabling businesses in the sports, recreation and wellness industries to improve their international competitiveness, this initiative will support economic growth and job creation in Western Canada."
The Institute, which is based at SAIT Polytechnic in Calgary, was established to work with companies and not-for-profit organizations to develop new materials and designs for sports and wellness products. Whether it's faster bobsleds, better-fitting hockey skates that reduce injuries, a bi-directional pedalling system for bicycles that allows athletes to ride longer, or even wheelchairs that can travel smoothly over varied terrain, the initiative is helping to transform a wide range of innovative new concepts into reality. This enables businesses in the sports, recreation and wellness industries to improve their competitiveness and access the expertise needed to successfully bring their ideas to market.
"Highly skilled graduates from SAIT will be able to design and develop uniquely Canadian equipment to give our Canadian athletes and industry a competitive advantage," said Alex Zahavich, Director of Applied Research and Innovation Services at SAIT. "Now we have more opportunities to collaborate with partners in this growing industry."
Meanwhile, the Institute is hard at work making further refinements to the skeleton sleds that will be used by Canadians at the 2014 Winter Games in Sochi, Russia.
Expanding agricultural research development
Minister Ritz announces funding to enhance the capacity of the Phytotron research facility at the U of S.
Agricultural research can take a long time. Researchers can wait a full year for crops to materialize. But what if you want to grow three generations each year? That is an advantage that the Phytotron is providing researchers at the University of Saskatchewan (U of S) in Saskatoon.
One of the largest research greenhouses worldwide, the artificial growing environment at the U of S, is going through its own growth spurt, thanks to funding from a partnership of industry and government agencies.
"Our Government understands that investments in agricultural innovation create new crops for Canadian farmers, and help to strengthen our economy," said Agriculture Minister Gerry Ritz. "That's why we are proud to be supporting the Phytotron and the important research it facilitates."
The expansion will bring the complex up to 100 per cent capacity later this year. The WD support is being used to purchase and install eight new refrigeration units, which remove excess heat produced by the Phytotron lights, and new computer controllers for most of the 183 chambers.
The economic advantages of this project can be felt throughout Western Canada. Pulse and lentil crops grown in the West produced $2.2 billion in sales in 2009, and in 2008, export sales of canola reached $2.8 billion. Both of these crops were developed at the U of S facility, resulting in an economic impact of $14.1 billion across Canada and proving that the facility is instrumental in developing new varieties of crops that are generating sales around the world.