Community Economic Development
The following document is out of date.
Archived Content
Information identified as archived on the Web is for reference, research or recordkeeping purposes. It has not been altered or updated after the date of archiving. Web pages that are archived on the Web are not subject to the Government of Canada Web Standards. As per the Communications Policy of the Government of Canada, you can request alternate formats on the "Contact Us" page.
Renovations Bringing Big Events to Saskatoon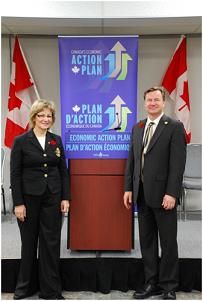 Minister Yelich and Prairieland Park CEO Mark Regier celebrate the completion of the renovations at the trade and convention centre.
All the pieces of the puzzle are in place. Thanks to an earlier expansion and recent renovations to its trade centre – Prairieland Park – Saskatoon is now able to attract major conferences, helping strengthen economic opportunities of benefit to the municipality and the citizens of Saskatchewan at large.
"Prairieland Park continues to branch out and attract more national and international visitors every year. I'm proud our Government was able to assist them as they expand and bring more business and investment to our province," said Minister Yelich.
The facility now offers five breakout rooms equipped with the latest audio and video conferencing technology, which allows it to handle more simultaneous events and appeal to a broader clientele. Prairieland can accommodate upwards of 5,000 people at events ranging from Christmas concerts to professional meetings, all under one roof.
Mark Regier, Chief Executive Officer for Prairieland Park, said the venue used to face a significant challenge hosting large events but thanks to major improvements, "we will now be able to handle more people."
Upgrades to the halls included the demolition of existing walls and installation of: new energy efficient power and lighting fixtures; new air and heating systems; new walls, ceilings and flooring; new audio and visual systems; and new washrooms.
Since the renovation project wrapped up in the fall of 2010, trade show activity has already increased, said Regier. "We've been at this for a couple of decades, and now we can finally compete at the top level."
Regier said that thanks to the renovations, the facility will be better equipped to provide for both large and small gatherings. Private sessions are a "huge component" of the business, said Regier, "and we just didn't have that ability before."