Innovation
The following document is out of date.
Archived Content
Information identified as archived on the Web is for reference, research or recordkeeping purposes. It has not been altered or updated after the date of archiving. Web pages that are archived on the Web are not subject to the Government of Canada Web Standards. As per the Communications Policy of the Government of Canada, you can request alternate formats on the "Contact Us" page.
Micro and nanotechnology transforming Alberta industrial base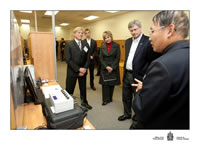 Prime Minister Harper and Minister Yelich tour the ACAMP facility at the October 8, 2010 announcement.
Forty years ago, the word was microelectronics. Today, the hot topic is nanotechnology. At least, that's the case at the Alberta Centre for Advanced Microsystems and Nanotechnology Products (ACAMP), where commercialization of micro and nanotechnologies is helping transform the province's industrial base.
ACAMP is a not-for-profit organization that provides specialized business services to microsystems and nanotechnology (MNT) clients. WD, together with the Government of Alberta and industry partners, played an important role in helping to launch the initiative more than two years ago. WD has subsequently invested a total of more than $8.9 million towards the installation of state-of-the-art equipment at the Centre.
The most recent investment of over $1.9 million is supporting the extension of ACAMP's development and commercialization services into new specialized areas, including geomatic products, laser product assembly, and microfluidic devices.
"With this support, corporations will now have the capability to compete worldwide in the area of complex integrated micro and nano based systems," said Ken Brizel, CEO of ACAMP.
This latest investment builds on WD's previous contributions towards the purchasing of equipment. Thanks to a $3.5 million contribution in May 2009, manufacturers in Alberta's biomedical, agricultural, communications, environment, and forestry sectors – along with energy and aerospace interests – have access to Canada's first low-temperature co-fired ceramics packaging facility. They also have access to the technical and business development staff at ACAMP.
Assembly technologies, such as low temperature co-fired ceramics, are inorganic non-metallic materials that can withstand extreme conditions, making them ideal for environments in which conventional metal or plastics would fail. "Those kinds of temperature differences cause normal electronics to burn up," said ACAMP's CEO, Ken Brizel. "A lot of companies haven't had much experience or expertise in building those kinds of products before."
The oil and gas industry, for one, has a long wish list for electronic monitors that can work at the bottom of a well, where temperatures can climb to upwards of 200 degrees Celsius. Aerospace firms have similar needs for orbiting satellites whose parts can tolerate triple-digit temperatures both above and below zero.
"We're bringing processes and technologies to Alberta that didn't exist before," said Brizel. "We help companies design for manufacturability and then they go home and mass produce them."
If an entrepreneur has managed to get past the idea stage into prototyping, they're a candidate to join the Centre's client list, now at 48 companies and growing. "We only work with clients who have a working prototype and are incorporated," added Brizel. "It's not about basic research; it's about diversifying the province's economy with cutting-edge products." In addition to a manufacturing facility, the Centre offers clients advanced simulation tools that analyze products in a virtual environment, and runs a series of seminars for innovators across the province.
UBC uses 3D technology to advance mining research
MP Mark Warawa meets with UBC's Dr. Don Brooks and Dr. Simon Peacock following WD's funding announcement.
Not every university would have the capacity to accept a sizable donation of diamond exploration drill core. But at the University of British Columbia, the Department of Earth and Ocean Sciences received such an offer from one of the world's largest mining companies.
Fortunately, the university had also received a $960,000 commitment from WD to help establish a smart mineral exploration and mining research centre. Professor Greg Dipple, who now directs the normally titled Centre for Environmental Change and Planetary Stewardship, said the timing couldn't have been better. "We wouldn't have this amazing collection if we hadn't had the good luck of securing funding a few months before," he said.
The drill core is housed in the Centre's new Field Support Facility, which doubles the university's storage capacity for such materials. The core will give researchers invaluable insight into the geology of Northern Canada. In addition to housing the drill core, the Centre used WD support to assemble a cutting-edge visualization facility, which uses the same polarized imaging technology as the new generation of 3D films, such as the highly acclaimed "Avatar." Students and faculty can examine complex data from oil and gas deposits or mineral formations in three dimensions without leaving campus, cutting travel expenses significantly. "Now we're hosting meetings with industry on campus," said Professor Dipple. "It's having a real effect on research."
The third element of the Centre is the Environmental Interface Laboratory, essentially a large sand tank that allows researchers to simulate how water and other materials flow and react underground. For example, one team is studying the capacity of certain mine wastes to absorb carbon dioxide as part of the global effort to find ways to mitigate the climate-changing effects of fossil fuel use.
The Centre is devoted to improving mineral exploration technologies and minimizing their impact on the Earth. Most of the Department of Earth and Ocean Sciences' 170 graduate students and 45 faculty members will make use of the new facilities, which are scheduled to move into a new $75-million complex on the UBC campus in 2012.
Making healthier food with new technology
Dan Prefontaine shows Minister Yelich one of the many products developed and commercialized with the assistance of the Food Centre.
Consumers want more choices in healthy snacks. Farmers need to stay competitive and make the most efficient use of their crops. New food processing technology in Saskatoon is helping address both demands.
Since December 2009, the Saskatchewan Food Industry Development Centre has been taking advantage of a new $78,300 package of accessories for its extruder, purchased with a contribution from WD. The Centre bought the twin screw extruder two years ago with $800,000 in WD support. The twin screw extruder can transform a wide variety of agricultural crops, from soybeans to peas, into innovative consumer food products. With the new accessories, the extruder's potential in exploring commercialization opportunities are greater than ever.
"Extrusion is used in a wide range of familiar food products, from cereals, pasta, and snack food to animal food," said Dan Prefontaine, the Centre's President. "But the real growth industry these days are healthy snacks and easy-to-prepare main courses, particularly foods that don't include ingredients like wheat or soy, to which many consumers are either allergic or have aversions."
At the same time, demand for alternatives to meat is driving much of the innovation.
"You can make a product with extrusion that's very similar in appearance to meat," said Prefontaine. "The idea is not to replace meat, but to give people alternatives." From the farmer's point of view, the new extrusion equipment also offers a chance to make use of byproducts, such as pea shells, that otherwise would be thrown away.
So far, the Food Centre has attracted a dozen clients from across North America hoping to create new, healthy alternative food products. "We've already developed a couple of glutenfree products," said Prefontaine.
Besides human food, the upgraded extruder is also capable of producing pet food and biodegradable packaging materials that can fill the same niche as plastic foam "peanuts," only in a more ecologically responsible manner.
State-of-the-art equipment attracts top talent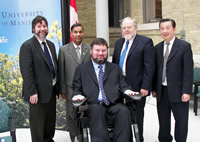 L to R: Dr. Geoff Hicks, Director of Regenerative Medicine; Dr. Digvir Jayas, Vice-President, Research, University of Manitoba; Minister Steven Fletcher; Dr. Dean Sandham, Dean of Medicine; and Dr. Patrick Choy, Associate Dean (Research) Faculty of Medicine at the University of Manitoba's Centre of Excellence for Regenerative Medicine.
Manitoba's growing life sciences sector is luring top research talent to the province, thanks to state-of-the-art laboratory equipment recently acquired by the University of Manitoba.
At the university's new Centre of Excellence for Regenerative Medicine, the purchase of modern scientific equipment was a key factor in the decision of several leading scientists to come to Winnipeg. In each case, it was the chance to work on state-of-the-art machines that sealed the deal, said Dr. Geoff Hicks, Director of the school's Regenerative Medicine Program.
Among the "essentials" is a device that can identify and isolate stem cells, the primitive cells that can transform themselves into all of the specialized cells in the body. This device attracted Dr. Afshin Raouf, who studies the role of stem cells in breast cancer. "He wouldn't have come without it," said Dr. Hicks.
Similarly, neurobiologist Dr. Soheila Karimi made the move to Winnipeg in large part because of a new confocal microscope, a device that gives researchers extraordinarily sharp images of the tiniest of cellular components. Dr. Karimi's research focuses on how stem cells can be used to repair spinal-cord injuries. From heart attacks to Parkinson's disease to diabetes, the list of possible applications for stem-cell therapies is constantly growing.
Dr. Hicks' team will also take advantage of the combined resources of the burgeoning biomedical research community in Manitoba. The goal is to put the Centre at the forefront of regenerative medicine research and offer top-quality health care, said Dr.Hicks. "The hope is the clinical applications will be quick and direct."
In May 2009, WD committed $1.7 million toward purchasing the equipment for the Centre, which is the only such facility in the Prairie region. In addition to attracting new highly qualified personnel to the region, WD's investment is expected to generate additional research funding estimated at $7.2 million over the first three years of the project. The investment will also allow the Centre to pursue new collaborative relationships with complimentary facilities worldwide, generating new research opportunities and associated grant funding.
The research done at the Centre will provide the basis for the development of new medical procedures for the regeneration of muscles, heart tissues, nerve tissues and brain tissues in relation to various diseases.
Seeking new forms of energy conservation
BCIT President Don Wright, MP Russ Hiebert and MLA Richard Lee outside of the Centre for Applied Research and Innovation building.
Homes fitted with fully automated appliances may be closer to reality than people may think, thanks to the kind of research being conducted at the British Columbia Institute of Technology (BCIT). Soon, your freezer will know to turn off when it's empty, while the washing machine and dishwasher will negotiate which gets priority during peak energy use hours. Coordinating these automated activities will be an "intelligent agent" somewhere between your home and the local power supplier.
Welcome to the microgrid, a critical element of the global campaign to conserve energy according to a team of engineers at BCIT. "There's no doubt we're moving toward new forms of energy conservation measures," said Dr. Hassan Farhangi, Director of BCIT's Microgrid project at the school's new Centre for Applied Research and Innovation.
The BCIT Microgrid is a six-year experiment in putting new electricity production and distribution technologies to work. The microgrid will act as a testbed where communication technologies, smart metering, power generation, and even smart appliances will be integrated. It will also be used for applied research and development for future electricity grids.
In October 2009, through the Western Economic Partnership Agreement, WD announced a $2 million federal investment to help BCIT develop this leading-edge electricity grid demonstration project.
The first phase of the project – installation of the energy monitoring and control equipment – is underway. Next comes two years of testing and tinkering. Project goals include improving energy grid reliability, efficiency and compatibility.
"BCIT Microgrid is planning for almost one megawatt of renewable electricity generated on the Institute's campus," said Dr. Farhangi. "There are several solar arrays, a planned small wind turbine and a multi-fuel generator that can run on a variety of different fuels. Our target is to turn BCIT into an independent power producer."
According to Dr. Farhangi, there's no other similar campus-wide system in Canada that combines smart appliances with sophisticated metering and computer-controlled distribution networks to keep electricity consumed by the school to a minimum.
High-tech training for Aboriginal Students
In response to a need identified by industry, the Centre for Aboriginal Human Resource Development (CAHRD) is delivering training to prepare Aboriginal students for high-demand trades needed to support Manitoba's industrial growth and competitiveness.
Training is delivered through a division of CAHRD, the Neeginan Institute of Applied Technology - a unique centre that delivers certified trades training programs in partnership with industry, universities and colleges. The Neeginan Institute provides an opportunity for students, many of whom would otherwise be unemployed, to raise their skill or academic level so they can undertake training for high-demand trades.
CAHRD is a community driven, not-for-profit human resource development organization that delivers education, training and employment services to Winnipeg's urban Aboriginal population, as well as support services like housing and child care. This inclusive, holistic approach is key to the success of the program and results in graduates taking on long-term sustainable jobs.
In April 2010, Minister Yelich announced a Government of Canada investment of $379,977 ($276,669 from WD and $103,308 from Indian and Northern Affairs Canada through the Urban Aboriginal Strategy) for CAHRD. The funding provides equipment and tools to help Aboriginal students become skilled workers in the aerospace industry in areas such as gas turbine repair, as well as overhaul and manufacturing.
"This initiative is providing good career potential within the aerospace sector for Aboriginal students, and as a result, is proving to be beneficial to Winnipeg's Aboriginal community," said Wayne Helgason, Chairperson of the Board of Directors at CAHRD. "It also shows that CAHRD, in partnership with industry and government, is responding to current labour market needs."
Neeginan has formed strong partnerships with both Boeing Canada and Standard Aero. Currently, 16 participants have been accepted into a program at Boeing, 11 participants are training to be gas turbine repair and overhaul employees for Standard Aero, and 26 other companies are working with CAHRD to hire graduates.
This project builds on previous WD funded projects with CAHRD for the Neeginan Institute to provide training in trades such as welding, machining, carpentry, milling, lathe operation, and aerospace maintenance. This training is helping fill Manitoba's labour shortages in trades with skilled Aboriginal people.
Testing medical devices at new biomedical centre
There is more than one way to test new medical devices. An innovative way is to build a device that can simulate what happens inside the body – enter the ElectroForce Systems Group, a division of the Bose Corporation.
Better known for its speakers and other home audio products, Bose is applying its expertise in electrical systems to the biomedical field by teaming up with researchers at the University of Calgary. The two partners are in the process of setting up the Bose Biomaterials and Tissue Engineering Technology Development Centre, which is intended to be a world leader for the development of biomedical "test frames."
The frames create an artificial testing environment in which temperature, pressure, oxygen levels and other conditions can be precisely controlled using the same technology behind the electrical motors Bose uses to reproduce sound. The goal is the development of new gear to diagnose, treat and prevent diseases.
"We could design stents that would help expand blood vessels and see how they respond to the stresses and strains of the human body," said Dr. Jeff Dunn, Canada Research Chair in Biomedical Imaging and a Professor in the Department of Radiology. "We'll be the only group in the world with all the Bose test frame equipment in one place."
Building, outfitting and staffing the new Centre will cost about $7.3 million, with WD contributing just over $4 million of the total and the balance from the province, both through the Canada-Alberta Western Economic Partnership Agreement. Some 20 researchers are expected to move into the new labs later this year, said Dunn.
Bose has been working for several years with University of Calgary teams studying the company's test frames. So when the university raised the prospect of a dedicated research centre, the decision to work together was an easy one for both sides. "Their approach to research just seemed to mesh well with ours, both philosophically and at the personality level," said the General Manager of the ElectroForce Systems Group, Ed Moriarty.
Bose has long had a strong research division, Moriarty said, but until now there was no central laboratory dedicated to the biomedical gear.
Cutting-Edge Testing Facility Opens in Northern Manitoba
Following the grand opening Minister Yelich operates the jet engine throttle with Saman Raza, MDS Project Coordinator.
Northern Manitoba and the world's aviation industry will benefit from the development of a state-of-the-art cold weather testing and research facility in Thompson. On October 29, 2010, Minister Yelich joined federal, provincial and industry leaders for the grand opening celebrations of the Global Aerospace Centre for Icing and Environmental Research (GLACIER ) facility and the not-for-profit Environmental Test, Research and Education Center (EnviroTREC).
"Our Government is proud to be involved in this exciting partnership," said Minister Yelich. "By working together to develop this state-of-the-art facility we are promoting cutting-edge technology, and creating high-quality jobs and educational opportunities right here in northern Manitoba."
EnviroTREC is a year-round research facility that specializes in supporting engine icing certification and research and development of new, more efficient and advanced aerospace designs. Through partnerships with secondary and post-secondary educational institutions, EnviroTREC will offer a wide variety of aeronautical sciences and aerospace research and maintenance programs to attract, develop, and retain highly-qualified professionals within Canada. The testing technology used will also be applicable in other sectors, such as bus and automotive manufacturing.
EnviroTREC is co-located with industry in the new facility built by GLACIER, which is a limited joint venture between Rolls-Royce Canada Limited and Pratt & Whitney Canada.
"Without the efforts and financial support of Western Economic Diversification Canada, this facility would not be here today," said Roxie Binns, Thompson Unlimited's Winter Weather Testing Development Coordinator. "This icing facility has elevated Thompson to the global stage, clearly showing that we are a Centre of Excellence for cold weather testing, and bringing with it opportunities for the entire community."
Government of Canada funding for the facility, including a WD investment of $8.4 million, is helping this major northern initiative create value-added economic activities in northern Manitoba as the knowledge and technology developed in Thompson emerge into commercial opportunities.