Key Priorities
The following document is out of date.
Archived Content
Information identified as archived on the Web is for reference, research or recordkeeping purposes. It has not been altered or updated after the date of archiving. Web pages that are archived on the Web are not subject to the Government of Canada Web Standards. As per the Communications Policy of the Government of Canada, you can request alternate formats on the "Contact Us" page.
This section describes the department's program and management priorities, explaining why they are priorities, their alignment with the Government of Canada priorities, how Western Economic Diversification Canada(WD) will meet these priorities, the risks of not having such priorities and the expected impact on western Canadians. This section also includes WD's work in delivering Canada's Economic Action Plan (CEAP). Although this was not formally recognized as a program priority in WD's Report on Plans and Priorities, it is expected to be a major area of focus for the department in 2010-2011.
In an effort to ensure WD's work is relevant and effective, these priorities were developed with consideration of economic conditions, Government of Canada priorities, western Canadian community and business needs and financial resources available.
Program Priorities2
The following are the three program priorities on which WD will focus its efforts to deliver on its mandate of promoting the development and diversification of the western Canadian economy:
Technology Commercialization
Trade and Investment
Business Productivity and Competitiveness
The chart below outlines the planned spending for the three program priorities. (Planned grants and contributions spending for all programs and activities are provided in Annex A.)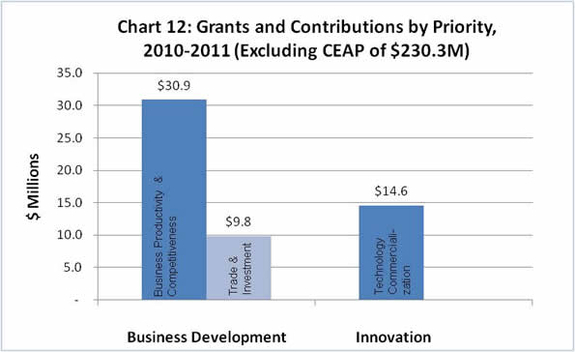 In 2010-2011, grants and contributions spending is planned as follows: $14.6 million for Technology Commercialization, $9.8 million for Trade and Investment, and $30.9 million for Business Productivity and Competitiveness.
WD's role in delivering the western component of the Community Adjustment Fund (CAF) and Recreational Infrastructure Canada (RInC) under CEAP is also included in this section given its importance to the department in 2010-2011.
Technology Commercialization
Did you know?
Over the last 10 years, a number of research organizations and firms have made use of Alberta's NanoFab facility, a nanotechnology fabrication centre developed with WD support under the National Institute of Nanotechnology Cluster initiative. Firms include University of Alberta spin-off companies Micralyne, BigBangwidth, Aurora NanoDevices Inc., and Telephotogenesis. To date, Aurora NanoDevices Inc. has become a supplier of high quality calibration systems for atomic force microscopy imaging with an international client base. Research organizations include TRLabs, the Alberta Research Council, and the National Research Council.
Technology commercialization is about converting knowledge and technology into commercial opportunities. WD has chosen this as a priority because it is recognized that new knowledge-based products, services or processes can contribute towards a more diversified economy in western Canada. Technology can also improve western Canadians' standard of living by increasing business productivity and competitiveness. Typically, innovative firms outperform their counterparts with better productivity performance and improved competitiveness. In the West, business and government expenditures on research and development as a share of Gross Domestic Product (GDP) are low, thus impairing the ability to turn knowledge into new and improved goods and services. Innovation is a critical component of competitiveness.
Converting knowledge to new products and processes will provide solutions to business, environmental, health and social challenges. WD's priority of technology commercialization aligns with the Government of Canada's Science and Technology Strategy: Mobilizing Science and Technology to Canada's Advantage particularly the Entrepreneurial Advantage, which focuses on translating knowledge to practical applications. There is also a link to Advantage Canada with respect to building a stronger Canadian economy and improving Canadians' quality of life.
Recognizing that technology commercialization occurs in a complex interrelated innovation system, WD will focus on strengthening linkages among elements and actors of the innovation system and on investing in key knowledge infrastructure, technology skills development and applied research and development. Key players include provincial and local governments, post-secondary education and research institutions, other federal departments and industry associations. Investments will be made in key technology sectors including health and related life sciences, information and communications technologies, and environmental technologies.
To ensure that this priority can be delivered in a timely manner, WD will continue to develop and retain qualified and competent employees. This will be done through knowledge transfer initiatives that support learning and development opportunities for employees to build capacity.
By continuing to support organizations that facilitate the commercialization of new technologies, Western Economic Diversification Canada expects an increase in deal flow and market-ready technologies. This will result in a greater number of new spin-off companies, attraction and increase of venture capital to new and existing firms, additional technology demonstrations, increases in sales of new products by firms to domestic and international markets and more advanced technology products and services in the marketplace.
Without WD's support of technology commercialization Western Canada could fall behind competitor regions and countries that are more focused on developing a knowledge-based economy.
Trade and Investment
Did you know?
The Metro Vancouver Commerce partners developed the 2010 Partnership Investment Program with WD support to attract and engage a group of foreign investment decision-makers during the 2010 Olympic and Paralympic Winter Games. This program has since drawn the attention of 54 foreign investors, bringing together local innovators and investors who represent five strong sectors in BC – green enterprise, new media, life sciences and health, global business services and information and communication technology. (Expansion Solutions Magazine, March/April 2010 issue)
Western Canada's future prosperity depends on its ability to open international markets and attract foreign direct investment, especially with such a small domestic market. Due tothe global recession, western Canadian exporters have faced hardships, with exports from the region declining approximately 30 per cent in 2009. In order to recover from the economic downturn, western Canadian small and medium-sized exporters are now looking to regain market share in existing markets and to tap into new export opportunities in emerging economies such as the Asia-Pacific and Latin America regions. This will help to create jobs and spur economic growth in Western Canada.
WD's priority of strengthening trade and investment also directly aligns with the Global Commerce Strategy, Advantage Canada and the National Policy Framework for Strategic Gateways and Corridors. Additionally, through CEAP, the Government of Canada has introduced specific measures to assist Canadian exporters to create jobs, modernize their operations, and better compete globally to take advantage of future economic opportunities.
WD plans to meet this priority by focusing its efforts on enhancing small and medium-sized enterprises (SMEs) participation in international business development, enhancing value-added opportunities connected to Western Canada's gateways and corridors and enhancing investment attraction. WD invests extensively in western innovation priorities and is engaged in trade and investment in order to maximize Western Canada's sciences and technology capabilities in global markets. Key players include the Department of Foreign Affairs and International Trade, Industry Canada, provincial and local governments and business associations.
By pursuing this priority, WD will help increase the volume and value of exports (excluding primary production sectors) by western SMEs, the number and percentage of western SMEcs actively exporting, the level of foreign investment and awareness and utilization of Western Canada's gateways and corridors.
Knowledge transfer, employee training and development and succession planning are important to ensure that WD has the human resource capacity in trade and investment. An important training and development strategy is continuing to provide temporary duty assignments through the North American Platform Program.
The risk of not supporting trade and investment is foregone opportunities to help firms in Western Canada bounce back from the recession. Without WD's support in this area, Western Canada may lose ground in both existing and emerging international markets as the global economy improves.
Business Productivity and Competitiveness
Productivity growth and competitiveness are important sources of long-term economic growth and contribute to an increased standard of living for Canadians. Canada's current productivity lags behind the United States and most countries that are part of the Organization for Economic Co-operation and Development (OECD)3. The Council of Canadian Academies attributes this lagging productivity growth in large part to weak business innovation4. Some key factors affecting the productivity growth in Canada's business sector include low rates of technology adoption, the poor rate of productivity growth in the Information and Communication Technologies sector and falling share of foreign direct investment. While low productivity rates can be masked by a favourable exchange rate, the increasing value of the Canadian dollar relative to other currencies requires that Canadian companies be more competitive if they are going to survive.The current economic slowdown, along with the strengthening of the Canadian dollar relative to other currencies, has created conditions that are favourable to narrowing the widening gap between Canada's productivity rates and those of other OECD countries. Canadian firms can use the increased purchasing power of the Canadian dollar to invest in capital improvements and improve efficiencies.
Did you know?
Under the Advanced Manufacturing Initiative (AMI), the Alliance of Manufacturers & Exporters Canada undertook three projects related to Lean Manufacturing with WD support. AMI is a multi-pronged approach to provide the manufacturing community with lean expertise and knowledge to improve productivity and develop skills that will assist companies to become internationally competitive. To date, 90 per cent of participating companies have seen increases in their productivity and 88 per cent reported creating long-term sustainability.
Under AMI, WD contributed $2.1M in 2009 for the Virtual Centre of Manufacturing Excellence project, which will provide programming for the Manitoba manufacturing industry related to productivity and international competitiveness through advances in innovation, trade and technology advances while strengthening the supply chain in the province.
Western Canadian businesses' ability to compete is also impacted by world market slowdowns, global competition from low wage countries and geographic distance from major markets. To ensure business sustainability and growth, WD will focus on business productivity and competitiveness. This priority also aligns with the Government of Canada's Advantage Canada, the Science and Technology Strategy and the Global Commerce Strategy.
WD plans to meet this priority by supporting modernization initiatives (including the adoption of leading edge technologies and lean manufacturing practices), initiating a pan-western pilot in selected sectors or clusters that are ready to implement productivity enhancements, and continuing to support skills development initiatives. Key players include post-secondary institutions, provincial governments, industry associations and members of the Western Canada Business Service Network.
Knowledge transfer, employee training and development and succession planning are important to ensure that WD can retain and develop employees who can help build western Canada's business productivity and competitiveness.
The risk of not addressing the productivity issue is the negative impact on the standard of living across the West in the long-term. Weak competitiveness will also limit the potential for economic growth and innovation.
Canada's Economic Action Plan
In Budget 2009, WD was charged with delivering the western Canadian portion of two national initiatives under CEAP - the CAF and the RInC program. The objective of these programs is to provide targeted, timely and temporary funding to communities adversely impacted by the global economic downturn in an effort to create or maintain jobs as a means of stimulating the economy. The delivery of both CAF and RInC continue to be high priorities for the 2010-2011 fiscal year.
Did you know?
With WD's support of $1.784M under CAF, Prince Albert Grand Council (P.A.G.C). Holdings Inc., a non-profit corporate entity of the PAGC, and the Saskatchewan Ministry of Environment are working closely with local municipal authorities to build fire breaks, fuel breaks and greenbelts around communities located in Northern Saskatchewan's boreal forest that are at high risk of wildfires. The project is employing approximately 170 seasonal forestry workers recently affected by the job losses associated with the economic downturn, and extends employment beyond the seasonal nature of summer firefighting activities. Many workers are also able to work in their home communities and receive valuable training and experience that will assist with future employment opportunities.
Nationally, CAF and RInC were allocated $1 billion and $500 million, respectively, over two years. WD was allocated $306.3 million for CAF and $152.9 million for RInC. It is anticipated that project funds will largely have been committed in 2009-2010; the priority for 2010-2011 will turn to stewardship and monitoring to ensure that completed projects meet program objectives and are completed by March 31, 2011. In 2011-2012, WD will conclude its project monitoring and payments work and program wrap up for CAF and RInC.
CAF focuses on creating employment opportunities and supporting adjustment measures in communities impacted by the global economic downturn. The national fund provides an economic stimulus by supporting projects that create jobs and maintain employment in and around communities that have experienced significant job losses and lack alternative employment opportunities.
The RInC program will help reduce the impacts of the global recession while renewing, upgrading and expanding recreational infrastructure in Canadian communities.
Key players for both CAF and RInC include local and provincial governments, regional development agencies, non-profit organizations, for-profit organizations and Indian Bands (as represented by their Chief and Council).
In addition, Budget 2009 provided $15 million annually for the renewal of the Canada Business Network (CBN), which provides small businesses with information on government services, programs and compliance requirements. Of this amount, WD receives nearly $4.0 million annually to deliver this initiative in the four western provinces. WD then partners with all four provincial governments to fund and manage the four Canada Business service centres in Western Canada. By providing access for western Canadians to accurate, timely and relevant business information, the CBN contributes to the ultimate outcome of enhancing the success and growth of small businesses.
WD will ensure sound management and stewardship of CEAP programs to ensure approved projects meet program deadlines and performance indicators are reported in a timely and accurate manner. WD will also work with clients to maximize the impact and results of investments and ensure effective communication of these results to the public. The department will collaborate withother federal regional development agencies to ensure national consistency in delivery and results reporting of the initiatives. The changing focus of the CEAP programs to monitoring and payments requires staff with appropriate skill sets; this is being addressed through appropriate training and development.
Economic stimulus programming is expected to create and/or maintain jobs for affected workers. Investments will also provide a legacy of longer-term economic benefits including business expansion and increased competitiveness. There will also be social, health and environmental benefits with renewed infrastructure in western Canadian communities.
Management Priorities
Management priorities are internal organizational areas of focus that support the delivery of WD programs and services. These priorities align with Government of Canada initiatives to sustain a highly skilled and dynamic work force, demonstrate accountability and value for money, and ensure work across the department remains relevant and citizen-service focused.
Public Service Renewal
Did you know?
As of February 1, 2010, the implementation of CEAP at WD resulted in a 43 per cent increase in developmental opportunities for current employees, the hiring of 23 new term employees and anincrease of 50 per cent in student appointments.
People management is a priority of the federal government. Public Service Renewal, in particular, has been a priority of the Clerk of the Privy Council as outlined in the Public Service Renewal Action Plan. WD's people management strategy is to sustain the necessary complement of qualified, motivated and knowledgeable staff in order to effectively deliver on its mandate. Public Service Renewal is an integral part of WD's people management strategy and it continues to be a departmental priority with four specific areas of focus: planning, recruitment, employee development, and enabling infrastructure.
Planning – WD will continue to focus on succession planning and integration of business and human resources plans and reporting, while engaging employees in the process. A major factor in human resource planning involves a decline in staffing levels after 2010-2011 with the planned conclusion of funding received under CEAP.
Recruitment – The department will continue strategic recruitment in identified risk areas. WD will also provide opportunities for new and experienced professionals.
Employee Development – WD will actively manage leadership development, incorporate Public Service Values and Ethics into day-to-day operations and support training, diversity and the use of both official languages. The end of the CAF and RInC programs and the acting assignments and terms associated with them will require skillful transition management.
Enabling Infrastructure – The department will continue to integrate performance management processes with business and management priorities, refine human resources service standards and support workplace committees focused on healthy workplace practices.
By pursuing these priorities, WD will continue to ensure that staff has the skills and competencies necessary for effective delivery of departmental programs and services.
Performance Measurement
Did you know?
Given the size of government and its role in the economy, the contribution of government to national economic growth is of great significance, especially when comparing change rates over time. A recent study in the United Kingdom highlights that changing the basis of measurement of government activity can increase or decrease the measure of GDP significantly. (Organization for Economic Co-operation and Development Working Papers on Public Governance 2007/1)
Excellence in performance measurement is necessary to inform planning and reporting on results, both internally and externally. WD performance measurement and reporting mechanisms must be in compliance with the Government of Canada's Management, Resources and Results Structure (MRRS) Policy. The MRRS Policy supports the development of a common government-wide approach to the identification of programs and to the collection, management, and reporting of financial and non-financial information relative to those programs. This policy helps strengthen public sector management and accountability by providing a common framework for reporting to citizens and Parliament. Part of the MRRS is the Program Activity Architecture (PAA), which provides an inventory of all departmental programs and activities that are linked to WD's strategic outcome. A more detailed account of WD's program activities and their performance measures are available in this Plan in the section on Program Activities.
WD will encourage more frequent reporting of results and improve project workflow processes through the "Bring Forward" tool, which was recently implemented in Project Gateway, the department's project management system. Further developments will be made to Project Gateway to more effectively manage project performance measurement and reporting.
WD will analyze how well the existing performance reporting regime has been used over the first five years of the PAA.
Building upon the existing logic model for the Western Diversification Program and other program authorities, further work will be done to clarify the relationships among the activities, outputs and outcomes to ensure WD's performance measurement approaches are meaningful.
Regions will be consulted to refine the performance indicators used to measure the impact of individual projects. There will be a focus on selecting indicators that precisely reflect the expected results, ensuring that projects of a similar type use common performance indicators.
The department will develop a new performance measurement and result reporting approach focusing on "telling the WD story" through evidence-based case studies that will illustrate the impact the department has had on the western Canadian economy.
By continuing to pursue this priority, WD will support evidence-based decision-making, policy development, and enable the department to implement strategic adjustments as required throughout the year.
Integrated Risk Management
Integrated risk management is about capitalizing on opportunities and mitigating risks. It will remain central to the department's management and decision-making processes in 2010-2011 and beyond.
Did you know?
Risk management is done—well or poorly—throughout organizations whether or not they recognize it.
Today's operating environment demands a systematic and more integrated risk management approach. It is no longer sufficient to manage risk at the individual activity level or in functional silos. Organizations around the world are benefiting from a more comprehensive approach to dealing with all their risks. (Treasury Board Secretariat)
Integrated risk management is also a core government management priority as identified in the Management Accountability Framework (MAF)5 - a comprehensive and integrated model for sound management. Broader expectations are included in updated Treasury Board Policies, specifically the Policy on Transfer Payments and the Policy on Internal Control. In addition, the Blue Ribbon Panel on grants and contributions called for a risk-sensitive oversight regime to reduce the administrative burden on departments and recipients by reducing the web of rules.
As part of the Grants and Contributions Action Plan, WD will continue to pursue integrated risk management by integrating project risk assessments into all stages of the grants and contributions project lifecycle processes: project development, approvals, claims, monitoring and auditing.
WD will update its corporate risk profile and integrate risk mitigation directly into key business functions across the department.
WD will continue to develop and update risk assessment tools such as a risk-based financial policy monitoring framework.
WD will provide clear direction on integrated risk management through the development of an integrated risk management policy and implementation guide to better communicate expectations and define accountabilities.
Further demonstration of the benefits of risk management will include the sharing of best practices, increasing internal communications and building more awareness of risk management initiatives and culture.
By continuing to pursue integrated risk management as a priority, the department will benefit by a greater understanding of the value of effective risk management in decision-making and resulting in a more innovative risk-smart culture.
Information Management
Did you know?
"30% of an Information Worker's time is spent looking for information!"
"90% of records filed after the completion of a transaction are never referred to again."
(Records Management, General Services, State of Tennessee)
Information Management is about ensuring the integrity, accuracy, availability, quality, and business value of information in the department. In addition to regulatory compliance with the Government of Canada's Policy on Information Management and related directives, this priority reflects the MAF6 element of effectiveness of information management. Through this priority, WD will demonstrate effective use of information resources of business value as strategic assets, supporting both decision-making and efficient delivery of government programs and services. The department will also show effective recordkeeping practices that ensure transparency and accountability of government programs and services.
Without effective information management, exponential growth of files and documents will continue, increasing the risk of redundant, incomplete, and inconsistent information. This negatively impacts both the confidence and integrity of the department's reports, results, and responses to Parliament and citizens.
WD will integrate both physical and electronic records management by aligning Central Registries with the Information Management unit to ensure consistency in the lifecycle management of all forms of official records.
The department will enhance its Information Management Implementation Plan, including the establishment of a governance structure and engagement of additional resources. This will enable the department to comply with the Government of Canada Policy on Information Management and Directives on both Roles and Responsibilities and Recordkeeping, as well as to develop departmental electronic information management standards. WD will revise the current retention schedules for archival documents to ensure compliance with federal records centre requirements.
A phased approach will be used by functional area to implement Electronic Document and Records Management throughout the department.
WD will form a senior level committee to establish information management policies and procedures, with business processes and practices for all employees. WD employees will also participate in Information Management Awareness training sessions to be developed and delivered throughout the department.
The anticipated results of pursing this priority include reliable access to relevant, quality information in a timely fashion; increased internal collaboration on document development; compliance with regulatory requirements; and strengthened knowledge transfer.
---
[2] Note: Program Priorities are referred to in the 2010-2011 Report on Plans and Priorities as operational priorities.
[3] Out of thirty leading economies, Canada ranks 26th in terms of labour productivity growth.
[4] Council of Canadian Academies, Innovation and Business Strategy: Why Canada Falls Short, 2009
[5] For more information on MAF, see Appendix C.
[6] For more information on MAF, see Appendix C.