Retrospective
The following document is out of date.
Archived Content
Information identified as archived on the Web is for reference, research or recordkeeping purposes. It has not been altered or updated after the date of archiving. Web pages that are archived on the Web are not subject to the Government of Canada Web Standards. As per the Communications Policy of the Government of Canada, you can request alternate formats on the "Contact Us" page.
Alberta puts a new face on surgical reconstruction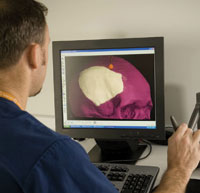 The Institute for Reconstructive Sciences in Medicine (iRSM) in Edmonton, AB, is an internationally recognized leader in the complex area of osseointegration (bone) implanted devices for prosthetic replacement of skull and facial defects resulting from cancer, trauma and congenital conditions. Photo credit: iRSM.
When cancer, injury or congenital disease creates major physical defects, reconstruction can be a long and difficult process for patients, particularly when the defects are in highly-visible areas of the head and neck.
Fortunately, there have been enormous strides in medical reconstructive sciences over the past two decades, many of them made in Alberta. The province has become an acknowledged world leader in the field, thanks to the shared vision of Dr. John Wolfaardt and Dr. Gordon Wilkes.
"At the time the options for facial reconstruction were limited. It was frustrating for the patients and for us. Patients who had lost significant parts of their faces had to endure the daily cumbersome and painful procedure of gluing facial prostheses onto their sensitive skin," Dr. Wolfaardt says. "We knew something really different was needed."
In 1993, the pair founded the Craniofacial Osseointegration and Maxillofacial Prosthetic Rehabilitation Unit, now known as the Institute for Reconstructive Sciences in Medicine (iRSM) at Edmonton's Misericordia Hospital. Since then, research and development undertaken at iRSM have furthered knowledge of surgical techniques, prosthetic therapy, and behavioral and functional outcomes, helping patients across Canada and around the world.
The innovative, multi-disciplinary iRSM team combines expertise in diverse disciplines including surgery, medicine, dentistry, rehabilitation medicine, engineering and computing science. As a result, many of iRSM's patients no longer have to glue prostheses to their faces. Instead, biomechanical implants, such as hearing devices, can be permanently anchored to the bone.
A WD investment of nearly $1 million helped to construct and equip the Medical Modeling Research Laboratory (MMRL), the first lab of its kind in Canada. The MMRL enables surgeons to create a three-dimensional virtual and physical model of a patient's head and neck, which leads to better outcomes for patients, time and cost savings in the operating room, and improved teaching and information sharing capabilities.
In 2006, WD invested $975,000 in a second project that will enable trial testing of the Implant Manager software, a dental implant management system created by iRSM's surgical research team and Redengine Inc., an Alberta-based software development company. Implant Manager enables clinicians to view three-dimensional images of implants prior to surgery, and acts as an effective tool in educating patients and their families about the procedures.
The development, demonstration and testing phases included piloting the technology at 10 sites in six countries. Implant Manager has attracted international attention and commercialization opportunities are now being explored.
In 2008, Drs. Wolfaardt and Wilkes received the ASTech Foundation Special Award. The ASTech Awards celebrate and promote the achievements of Alberta's scientific and technological communities in order to inspire future innovation and leadership in the province.