Technological Innovation
The following document is out of date.
Archived Content
Information identified as archived on the Web is for reference, research or recordkeeping purposes. It has not been altered or updated after the date of archiving. Web pages that are archived on the Web are not subject to the Government of Canada Web Standards. As per the Communications Policy of the Government of Canada, you can request alternate formats on the "Contact Us" page.
Building economic strength through science and technology
With the current global economic slowdown, advances in science and technology are essential to strengthening Canadian competitiveness and building a dynamic economy that will create new opportunities and better jobs for Canadians in the future.
The Government of Canada's Science and Technology Strategy identifies research and development as key to strengthening Canada's economy and encouraging innovation.
The Government of Canada supports Canadian researchers and innovators by investing in new world-class research facilities. Budget 2009 committed more than $3.8 billion for knowledge infrastructure.
Over the previous three federal budgets, the Government of Canada has made a significant commitment to equipping Canadian laboratories and investing in Canadian innovators. As a result, the federal government now provides $10.2 billion in annual, direct funding to science and technology.
Last year, WD invested $127.5 million in 86 projects that support innovation in Western Canada and closely link to the Government of Canada's Science and Technology Strategy. These projects are designed to strengthen infrastructure at our universities and research centres; increase the take-up of new technologies; develop technology skills; support research and development; and increase innovation.
BCIT to expand research into energy efficient green roofs
BCIT's Green Roof Research Facility. Photo credit: BCIT.
From the air, major cities often look like massive grey scars cut out of the surrounding greenery. But, in cities like Vancouver, that is beginning to change. Green roofs-engineered roofing systems incorporating vegetation-are adding welcome spots of green, enlivening the sterility of the urban environment.
The British Columbia Institute of Technology's (BCIT) Centre for the Advancement of Green Roof Technology is a major reason for the growing acceptance of green roofs. The centre has been contributing to the body of research on green roof technologies since 2003.
In May 2008, BCIT received $500,000 from WD to expand the Centre's applied research and demonstrations of green roof technologies to various climatic zones and to living wall technologies. Canada's diverse climate provides the perfect environment to test and improve the development of these technologies, which will support the continued development of the sustainable building technologies sector in B.C.
"This support from Western Economic Diversification will help move our green roof research forward in new and exciting ways," said Don Wright, President of BCIT. "At BCIT, our applied research activities directly involve industry so that we can work together to bring solutions to business. This funding and the support of our industry partners will help bring new ideas to architecture, design, construction and more."
The concept of green roofs is far from new. In Newfoundland, reconstructions of Norse sod houses dating from 1000 A.D. have been declared a UNESCO World Heritage Site, commemorating the earliest known European settlement in North America at L'Anse aux Meadows.
Today, the technology is becoming increasingly popular for its many benefits. By protecting the building from the summer sun and insulating the structure against winter cold, green roofs reduce greenhouse gases by saving energy year round. The rooftop green spaces also provide a welcome habitat for wildlife in urban areas and can be used to create recreational spaces, or even vegetable gardens.
New facility to test alternative fuels and vehicles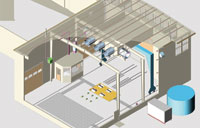 Artists rendering of WestTest's new Vehicle Performance Facility, which will include a 600 hp chassis dynamometer and 900 hp engine dynamometer.
When companies like Motor Coach Industries, North America's largest manufacturer of inter-city buses, designed a new highway coach, they turned to Western Canada Testing, Inc. (WESTEST) in Portage La Prairie. Soon, companies like Motor Coach Industires and other will have access to an expanded suite of services.
WESTEST is expanding its capabilities to test vehicles that use alternate fuels. The new Alternative Fuel and Vehicle Performance Testing Facility, made possible by a WD investment of nearly $1.7 million in 2008, will enable it to test new and existing transportation technologies.
"The Government of Canada's support comes at a critical time for our sector," said David Gullacher, CEO of WESTEST. "This region of the West enjoys a leading role in the manufacture of inter-city and transit coaches, as well as emergency and recreation vehicles. We are now on the threshold of the alternate fuels era, and this facility will be instrumental in getting our designs right for the production of world-class vehicles with alternate fuel capabilities."
Harvey Chorney, Vice-President of Manitoba Operations agreed, noting that the state-of-the-art testing facility will strengthen Western Canada's vehicle manufacturing sector by contributing to the validation and development of Canada's bio-fuels and bio-fibres value chain.
The new environment-controlled lab will allow WESTEST to carry out performance and durability testing at early stages in the research and development cycle, speeding up commercialization and providing competitive advantages for western companies and original equipment manufacturers. The facility will also enable WESTEST to develop their alternative fuel evaluation capacity, particularly in the area of bio-diesel research.
WESTEST, a non-profit industrial testing facility, provides sophisticated physical testing and product performance evaluation services for the transportation, mining, machine, equipment and packaging manufacturing industry.
WD and Environmental Technologies
WD supports a wide range of initiatives that strengthen Western Canada's environmental technology sector. In 2008/2009, WD invested:
$1 million towards Saskatchewan's Petroleum Technology Research Centre to research and develop new technologies that will enhance oil recovery.
$3 million for the Univesity of Lethbridge acquire of leading-edge research equipment for the Alberta Water and Environmental Sciences Building.
$1.2 million for FPInnovations towards the commercialization of biomass gasification technology.

top of page
New centre to bring nanotechnology products to world markets
A demonstration of virtual probe chip testing technology developed by Scanimetrics, one the ACAMP client companies. Photo credit: Government of Alberta.
Microsystems and nanotechnology (MNT) may not be household words yet, but the technology is expected to have major scientific and economic impacts in the future. Alberta, with the fastest growing nanotechnology sector in Canada, is well-positioned to capitalize on this burgeoning sector.
The Alberta Centre for Advanced MNT Products (ACAMP),is a new business and technical services provider with the goal of building world-class capability for business development, product development, and the packaging and assembly of micro- and nano-scale technology devices, turning them into market-ready products and applications.
"It's incredible the number of emerging technology companies in Alberta with the potential to develop exciting new consumer products for world-wide markets," said Ken Brizel, CEO of ACAMP. "Alberta is a prime location for world-class research, and ACAMP can provide the means to turn research into viable products. In fact, we are already helping our clients produce marketable products to compete globally."
In August 2008, WD provided $3.5 million to ACAMP for the purchase and installation of specialized equipment, and, to date, has invested more than $13.5 million to strengthen nanotechnology research and commercialization in Alberta.
ACAMP will work closely with other organizations in the Alberta nanotechnology sector - including the National Institute for Nanotechnology, the University of Alberta, and the University of Calgary's Advanced Microsystems Integration Facility - to help customers commercialize MNT devices by providing marketing, product development, packaging and assembly services.
In February 2009, the centre began holding quarterly sessions, inviting researchers and companies to pitch their business cases. Proponents who are able to convince ACAMP's Executive Board of the value of their proposals can receive a grant for up to $25,000 in business services.
The Province of Alberta is aiming to capture two per cent of the global market by 2020, which would generate an estimated $20 billion of new economic activity.
What is nanotechnology?
Nano comes from the Greek word for "tiny" and, as a prefix, means a billionth. So, a nanometer is a billionth of a meter. To suggest how small that is, a single sheet of paper is about 100,000 nanometers thick.
Scientists have only scratched the surface of the technology's potential. With applications that could include tiny molecular robots that swim through the bloodstream and fight disease, substances that digest toxic waste, and superstrong ultralight materials that could greatly extend the boundaries of space flight, nanotechnology has the potential to change our lives and the world itself.
Unmanned vehicles take off with new aerial launcher
A high performance launcher used for evaluating new aerial technologies on display at the Canadian Centre for Unmanned Vehicle Systems in Medicine Hat, AB.
If you think about industries in southern Alberta, agriculture, tourism, and oil and gas are likely to spring to mind. But if you look up, you'll find an entirely different industry that is becoming a big part of the regional economy - unmanned vehicle systems (UVS).
Central to this growing sector is Canadian Forces Base Suffield near Medicine Hat. The base houses one of seven Defence Research Development Canada (DRDC) research centres and world- class testing facilities for ground and airborne unmanned vehicles. DDRC, an agency of the Department of National Defence, is an acknowledged leader in robotics and unmanned vehicles,
U.K.-based Meggitt Defence Systems, which specializes in aerospace equipment, high performance sensors, defence training and combat systems, also has offices in Medicine Hat.
Most recently the city has become home to the Canadian Centre for Unmanned Vehicle Systems (CCUVS). Created in 2006, the Centre is a not-for-profit organization that aims to become the design, development, testing, evaluation and commercialization hub for Canada's UVS industry.
In July 2008, WD helped further that goal by providing $900,000 for the purchase of a Finnish-manufactured high-performance Robonics MC2555LLR launcher to test and evaluate unmanned aerial vehicles. The service, which is the first of its kind in Canada, is expected to improve competitiveness and productivity by providing a cost-effective way for Canadian and international companies to develop and test new technologies.
The launcher, which will be located and operated primarily at the Experimental Proving Grounds of Canadian Forces Base Suffield, will help solidify CCUVS's growing reputation. Last year, Israel Aerospace Industries and MacDonald Dettwiler and Associates Ltd. used CCUVS's facilities to test the Heron UAV system. According to the Association for Unmanned Vehicle Systems International, the test set a new precedent for operating a large unmanned vehicle in Canadian airspace. The first Heron was delivered to the Canadian Air Force in October 2008, and will be used by Canadian forces in Afghanistan.
What is an Unmanned Vehicle System (UVS)?
Unmanned Vehicles Systems are uninhabited, unpiloted, remotely controlled vehicles that can be equipped to perform a variety of tasks. Besides military applications, unmanned aerial vehicle systems are used in natural resource mapping, meteorology, agriculture, policing and security. (sidebar/box)

top of page
Genomics research to support growing shellfish industry
Thanks to a new Shellfish Genomics Laboratory at Vancouver Island University's Centre for Shellfish Research, the $6 million in lost product that B.C. aquaculture companies experienced in 2007 will be minimized in the future.
A WD investment of $400,000 will help the Centre develop diagnostic tools to monitor the health of shellfish to create a clearer understanding of how different kinds of shellfish respond to biological and environmental stress factors such as water temperature, salinity, oxygen levels and pollutants. In turn, that understanding will help B.C.'s coastal communities take advantage of the growing international market for shellfish by building a more successful and sustainable aquaculture industry.
Aquaculture operations are an increasingly important component of British Columbia's $198 million shellfish industry. In 2007, shellfish farmers accounted for nearly 20 per cent of total production. By 2030, that number is expected to exceed 50 per cent.
"Most people have heard the expression 'happy as a clam', but the truth is we do not have any tools to determine if a clam is happy (healthy)," said Dr. Helen Gurney-Smith, who leads the University's shellfish genomics research program."Genomic science can provide the necessary tools".
The Future of Food
A researcher at the Richardson Centre for Functional Foods and Nutraceuticals works with a flame tester.
Western Canada's emergence as a world leader in nutrceuticals represents new opportunities to add value to agricultural products such as oats, barley, flax, canola, corn and soy, it also has the potential to reduce health care costs and improve human health.
Functional foods and nutraceuticals are big business, and they're getting bigger every year. According to BCC Research, the global market for nutraceuticals was valued at $117.3 billion in 2007, and it is expected to approach $177 billion by 2013.
Much of that growth can be attributed to an increased awareness of the role diet plays in diseases such as diabetes and heart disease. Increasingly, consumers are looking beyond basic nutrition to the disease prevention and health-enhancing compounds contained in many foods.
Prairie plants hold the promise of better health
Over the past two years, scientists at the Richardson Centre for Functional Foods and Nutraceuticals(RCFFN) in Winnipeg have learned a great deal about the plants of Western Canada. Research undertaken by the centre has confirmed that many native plants have significant health benefits.
Now Dr. Peter Jones, Director of RCFFN, says it's time to move on to the next stage. Describing commercialization as the centre's new mantra, he said, "We've been doing lots of ivory tower research, but now we've got to get into the translation of that research into products that you and I can use to benefit our health and will also serve (as a boost) for small and medium enterprises in Manitoba and for producers."
Working with industry partner Wildly Canadian, products developed at the Richardson Centre will begin moving into the marketplace this year. For example, Aboriginal cultures have used teas made from birch tree "chaga" to treat digestive disorders for hundreds of years. Noting the historical use of the plant, Dr. Curtis Rempel of the RCFFN has experimented with various combinations that is more appealing to modern consumers.
Rempel is proud of what has already been accomplished, but emphasizes there is more territory to explore and much bigger benefits that could accrue. He thinks chaga could be beneficial for people suffering from inflammation and RCFFN's research is looking for ways to. isolate and purify the compounds responsible for the beneficial effect.
Another project currently underway at RCFFN is studying a peptide derived from peas that is thought to block the main factor responsible for high blood pressure. The novel protein has shown great promise in early testing and, if human trials confirm the effect, the five million Canadians who suffer from hypertension may eventually be able to control their blood pressure with nutraceuticals rather than drugs.
The Richardson Centre, located in Smartpark at the University of Manitoba, has received $10 million in funding from WD since 2006. The centre houses about 100 scientists, representing disciplines such as agriculture, food sciences, human ecology, medicine and pharmacy.
Flax ... good for you and the economy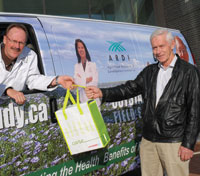 As part of the study, CCARM delivers products containing flaxseed to study participants. Photo by Bill Peters.
Dedicated to understanding the health-value of nutraceuticals, functional foods and natural health products, the Canadian Centre for Agrifood Research in Health and Medicine (CCARM) focuses much of its research on the benefits of crops grown in Western Canada. Currently, CCARM undertaking several projects, including the health benefits of flaxseed.
Located in Winnipeg, the centre is a unique partnership between St. Boniface General Hospital, the University of Manitoba, and Agriculture and Agri-food Canada. Since 2005, WD has invested $3.3 million in CCARM through the Winnipeg Partnership Agreement and, in July 2008provided $800,000 to create two new laboratories and purchase research equipment.
"These labs will hold clinical trial research activities and also provide a shared lab where CCARM researchers can collaborate in a more efficient, economical and productive fashion than was previously possible. This allows us to advance our research into nutraceuticals and functional foods in a manner that has not been attempted anywhere else in the world," said Dr. Grant Pierce, Executive Director of Research, St. Boniface General Hospital.
In October 2008, CCARM began a major study investigating the influence of a flaxseed-enriched diet on cardiovascular disease. The massive study, lead by Dr. Grant Pierce and Dr. Randy Guzman, involves 250 patients, half of whom will eat foods containing flax every day for the next two years. The other half of study participants will eat the same foods without the flaxseed.
The research team hypothesizes that the volunteers consuming flaxseed will suffer from fewer heart health problems and will have better stamina during exercise than the control group.

top of page
The Benefits of Flaxseed
Flaxseed contains a very high level of Omega-3 fatty acids, which have been found to be beneficial to human health. And because Canada produces about 40 per cent of the world's flax supply, Canadian agricultural producers could experience major economic benefits as more is learned about how flax can most effectively be used as part of a healthy diet.
Life sciences in Manitoba
Manitoba's strength in nutraceuticals and functional foods is part of the province's growing strength in life sciences. The sector – which includes research and development organizations, service firms and more than 40 private companies – employs about 4,200 people.
Other complementary capabilities within Manitoba's life sciences sector include advanced expertise in the development of cereal and oilseed crop varieties and cereal genomics, especially concentrated at the University of Manitoba's Faculty of Agriculture, the Cereal Research Centre, and Agriculture and Agri-Food Canada.