Community Economic Development
The following document is out of date.
Archived Content
Information identified as archived on the Web is for reference, research or recordkeeping purposes. It has not been altered or updated after the date of archiving. Web pages that are archived on the Web are not subject to the Government of Canada Web Standards. As per the Communications Policy of the Government of Canada, you can request alternate formats on the "Contact Us" page.
Infrastructure spending to strengthen communities and stimulate the economy
Canada's strengths are a function of the strengths of its communities and, in an increasingly globalized and competitive world, modern infrastructure is crucial to building healthy Canadian communities and a strong Canadian economy.
Strategic infrastructure investments provide communities with reliable roads; safe drinking water; improved community facilities; and strengthen the economy by facilitating the efficient transportation of goods and services, and enhancing business and trade opportunities.
The Government of Canada's $33 billion Building Canada Fund represents our ongoing commitment to addressing the long-term infrastructure needs of Canadian communities and stimulating the Canadian economy.
In fact, with the continued volatility of economies across the world, the Government of Canada, in Budget 2009, announced that it is accelerating and expanding infrastructure investments by $12 billion over the next two years.
The additional investment will enable communities to upgrade infrastructure and provide timely economic stimulus by creating construction, engineering and manufacturing jobs across Canada, and generating significant economic spinoff activity. The investments will also help Canada emerge from this economic crisis with a more modern and greener infrastructure that is the foundation of long-term economic growth.
Budget 2009 also identified the new Recreational Infrastructure Canada (RINC) program that will earmark $500 million over two years to support construction of new community recreational facilities and upgrades to existing facilities.
WD's Role
The Building Canada Fund's Communities Component is being delivered by WD in the West and will see the federal and provincial governments each contribute $359.5 million toward smaller-scale projects in communities with less than 100,000 residents. With municipal contributions, almost $1.1 billion will be invested in essential improvements to local infrastructure.
In fact, the shovels are already in the ground. In January and Febuary 2009, WD announced more than $281 million in federal-provincial investments towards 109 municipal infrastructre projects in Alberta, British Columbia and Saskatchewan through Building Canada Fund - Communities Component (BCF-CC).
Future projects under BCF-CC will be announced in the coming months as they are approved.
Building Strong Communities
The Municipal Rural Infrastructure Fund (MRIF), the forerunner to the Building Canada Fund, committed $829 million towards 593 projects in Western Canada. Through the Municipal Rural Infrastructure Fund, WD funded projects that:
improved roads, water and wastewater infrastructure,
invested in recreational, tourism and cultural facilities, and
increased broadband connectivity in communities across the West.
Moreover, 80 per cent of MRIF funding was dedicated to rural communities with a population of 250,000 and a minimum of 55 per cent of projects target "green infrastructure."
Paying tribute to Canada's peace officers
Opening ceremonies at the Mayerthorpe Fallen Four Memorial Park, July 4, 2008.
When four young Mounties were killed in an ambush near Mayerthorpe in March 2005, the community was determined to build a positive legacy from the largest single-day loss in the RCMP's 136-year history.
The town created Fallen Four Memorial Park, a permanent monument honouring all Canadian peace officers who have lost their lives keeping our communities safe. Featuring life size bronze statues positioned at the four points of a compass, the park symbolizes the RCMP's presence in all parts of Canada.
The park also includes a Visitor Information Centre, with a gift shop, tourist information and public meeting room. A small museum houses the thousands of cards, letters and other expressions of condolence that were sent to the local RCMP detachment and the community after the tragedy.
The Visitor Information Centre at Fallen Four Memorial Park is one of more than 590 western Canadian projects that received funding from the Municipal Rural Infrastructure Fund.

top of page
Recycling to build affordable homes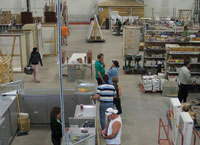 First shopping day at the new Habitat for Humanity ReStore.
Saskatoon's Habitat for Humanity ReStore has a new home in Riversdale.
In March 2008, WD invested $940,000 for Saskatoon's Habitat for Humanity ReStore to renovate a former curling rink, creating a larger retail facility for one of the city's largest recycling organizations.
The new facility, which opened in fall 2008, has triple the amount of storage and administration space as the original facility and is expected to increase sales of recycled building materials.
Habitat ReStore accepts donations of recovered and surplus building materials - such as doors, windows, lumber, cabinets, and plumbing and electrical fixtures - and sells them, providing homeowners with low cost building materials while diverting waste from Saskatoon's landfill.
Between 1996 and 2007, Habitat ReStore diverted an average of about 150 tonnes of waste from landfill each year, a number that is expected to grow to 700 tonnes a year with the new facility. It is projected that an additional 100 tonnes of waste will be diverted from the Saskatoon landfill this year alone.
Profits from the ReStore's operations are used to build affordable homes for low income working families. Since the Saskatoon chapter was established in 1991, the organization has built 37 homes; their 38th house is expected to be ready for tenants by April 2009.
Creating lasting economic growth in rural Alberta
Alberta's Community Futures (CF) organizations have a proud 20-year history of contributing to the economic strength of the province's rural communities. With 27 offices across the province, CFs are resident in the communities they serve, giving them first-hand knowledge of unique local challenges and opportunities.
Announced in March 2008 as a three-year $4.5 million program, the Rural Diversification Initiative (RDI) provides Alberta CFs with an important new tool to effect significant economic change. RDI is designed to create long-term economic growth by supporting major rural diversification projects that bring benefits to entire communities or industries.
RDI focuses on projects that result in significant economic development and diversification, such as adding value to traditional industries, developing new markets, enhancing industry productivity, and promoting new technologies, products and services.
The program is also designed to encourage regional collaboration. To qualify for funding, CFs must demonstrate that at least 40 per cent of a project's budget comes from other (non-RDI) sources. Eligible projects are identified by CF offices working with the local business and community partners. To date, the RDI program has approved more than $816,000 in funding towards projects across Alberta.
CFs, funded by WD, are non-profit organizations guided by a volunteer board of directors and staffed with business professionals. Together, CF staff and community volunteers are actively engaged in helping to develop and implement community-based economic development and diversification strategies.
Supporting South East Alberta's Technology Sector
In September 2008, RDI invested more than $150,000 towards the implementation of the South East Alberta Technology Strategy.
The goal is to implement a community developed strategy that will increase capacity and growth in the technology sector in South East Alberta. Lead by Community Futures Entre-Corp, the Strategy brings technology-based businesses and Medicine Hat College together to address the growing demand for skilled workers and leverage business opportunities in the technology sector.
While implementation of this strategy has just begun, the early results are positive:
Community Futures Entre-Corp has had the opportunity to provide on-to-one support to several technology clients;
Medicine Hat College has established a Technology Co-op Program; and
Community Futures Entre-Corp has been designated an approved service provider for the Alberta Advanced Education and Technology's Innovation Voucher Pilot Program.
Helping BC Communities identify new economic opportunities

The Honourable Jay Hill (left), Member of Parliament for Prince George-Peace River examines a piece of beetle-crete with the University of North British Columbia's (UNBC) Director of Communications, Robert Van Adrichem. The WD investment of $154,674 will help the University of Northern British Columbia conduct market research to help commercialize Mountain Pine Beetle Wood Concrete Products. The product is an innovative material, made by mixing cement with water and aggregate. This new environmentally friendly product provides a significant value-added alternative to pulp, and is a highly attractive and unique alternative building product.
With two-thirds of British Columbia blanketed by forest, it's no surprise that the forestry industry is critical to the provincial economy, accounting for seven per cent of employment and 15 per cent of all economic activity. But that mainstay has been threatened by the largest mountain pine beetle infestation in North American history. The outbreak has already destroyed about half of BC's mature pine trees, and devastated the economies of many forestry-dependent communities.
The Government of Canada is responding with the Mountain Pine Beetle Program, led by Natural Resources Canada. Launched in 2007, the program committed $200 million to control the spread of the mountain pine beetle, recover economic value from destroyed timber and protect against wildfires.
Member of Parliament Ron Cannan (left) demonstrates the new wood-pallet making equipment under the watchful eye of SBC Firemaster's Paul Adams (Right). WD funding of $93,000 enabled SBC Firemaster Ltd. to purchase the equipment in order to start the production of wood pallets using beetle damaged lumber sawn by the Upper Similkameen Indian Band.
The Community Economic Diversification Initiative (CEDI) is a key component of the program. The two-year initiative, delivered by WD, is investing more than $33 million to support economic growth, job creation and sustainability of adversely-affected communities. In addition, WD invested more than $18 million to expand airports in Kelowna, Kamloops and Prince George, increasing economic opportunities in the regions they serve.
More than 140 projects will be funded under CEDI to help communities take advantage of new opportunities to diversify their economies. From expanding tourism and finding new uses for damaged wood to increasing access to training, CEDI is increasing the long-term viability of communities across BC.

top of page
Tourism initiatives promote western Canadian destinations
While singing from the same songbook ensures unison, the magic of harmony comes from the strategic blending of many voices. Similarly, WD's recent $5 million investment in a pan-west international marketing campaign will have all four provinces working together to promote Western Canada as a tourist destination. But the magic behind the four-part harmony will be each province's individual appeal.
The Tourism Alliance of Western Canada, a consortium of the provincial tourism councils - Tourism British Columbia, Travel Alberta, Tourism Saskatchewan and Travel Manitoba - will oversee a unified campaign designed to showcase the breadth of tourism opportunities across the West. The campaign will focus on key target markets across the United States, Europe and Asia.
The timing of this initiative also means the campaign can capitalize on increasing international attention as the 2010 Olympic and Paralympic Winter Games in Vancouver draw nearer. By creating international awareness of the "rest of the West" there is potential to build long-term benefits through extended or repeat visits.
Announced in May 2008, the project will enhance international competitiveness by reinforcing collaboration among the West's tourism sector stakeholders.
This is good news for the more than 200,000 small- and medium-sized businesses involved in tourism across the West, many of which are located in rural communities. By working together to promote the West as a single destination with endless possibilities, the campaign will contribute to economic prosperity in western communities of every size.
Community Economic Development en action
WD also provided a recent investment of nearly $800,000 to the Corridor touristique francophone de l'Ouest (CTFO), or Western Francophone Tourism Corridor, a pan-west alliance that promotes Western Canada as a destination for French-speaking tourists. The new funding will be used to expand their reach in national and international markets.
Since 2003, the organization has worked to increase awareness of Western Canada's many Francophone communities as a tourism destination for Quebecers.
Quebec responded. Recently CTFO concluded two successful marketing initiatives, including media tours of the four western provinces and the production and distribution of promotional brochures which were used in several tourism trade shows. The result has been more than 9,000 requests for information and an estimated economic spin-off of almost $4 million from an original investment of about $1 million.
Now they plan to build on that success by creating updated marketing tools, organizing promotional tours with national and international French media, and strengthening partnerships with and between industry stakeholders.
The partners of the CTFO are the provincial Francophone Economic Development Organizations (FEDOs) - la Société de développement économique de la Colombie-Britannique, le Conseil de développement économique de l'Alberta, le Conseil de la Coopération de la Saskatchewan and le Conseil de développement économique des municipalités bilingues du Manitoba.
The four FEDOs, which became part of WD's Business Service Network in 2001, enhance the vitality of Western Canada's minority language communities and assist in their economic development - an objective that this initiative will contribute to.

top of page
Building Manitoba's Economic Capacity
Red River College's mobile training facilities bring trades training to rural and northern Manitoba communities. Photo credit: Red River College.
One of the biggest challenges to stimulating economic growth is ensuring that Canadian businesses have access to skilled workers. To address skilled labour shortages, WD works with universities and other post-secondary academic institutions, research institutes, industry associations and other not-for-profit organizations to provide opportunities for skills training and upgrading. Over the past two years, WD has invested in a number of initiatives to maintain and grow Manitoba's local labour pool.
Going Places with Mobile Training Labs
In May 2008, WD invested $3.12 million towards the development of two Mobile Training Labs at Red River College. The project will help expand Manitoba's trades training capacity by bringing trades training to rural and northern Manitoba communities and linking training opportunities to other community-based projects and emerging industries.
Each lab is self-contained in a 53-foot trailer that transforms into a 950 square-foot training facility, providing rural Manitoba and Aboriginal communities access to trades training. Through this project, the Department is helping address the need for highly qualified skilled workers in areas such as automotive service technician, carpentry, electrical, machining, pipefitting, plumbing, welding, and industrial mechanics.
Aboriginal Training Program Fills Gap
The Centre for Aboriginal Human Resource Development has responded to Manitoba's labour market shortages by expanding their training facilities at the Neeginan Institute of Applied Technology (NIAT). In February 2007, WD invested $320,000 to equip Neeginan's expanded training facilities with appropriate equipment for welding, carpentry, and aerospace maintenance training.
To date, Neeginan has graduated 104 trades-people and places approximately 50 students with cutting-edge jobs in the aerospace sector per year. In fact, the Institute's welding program has become nationally certified and is training two shifts of welding students per day.
Moving into the future, the Institute will continue to provide Manitobans with trades training and foster strong partnerships with Manitoba businesses.
Increasing Knowledge-Driven Economic Activities
In a bid to facilitate industry-based training programs, increase productivity and global competitiveness, the Manitoba Sector Training Network turned to WD for assistance.
In June 2008, WD invested $970,000 towards the development of the Sector Council Centre and Training Facility, which serves as a training and business networking facility for sector associations serving industry in Manitoba.
The Centre fills will fill this gap by pooling resources and sharing the cost of training, providing a competitive advantage to Manitoba business as the province's 16 Sector Councils have limited resources to offer individual training for their members.
To date, the first training groups have moved into the facility and the Manitoba Sector Training Network is completing equipment installation and construction of the Centre's training rooms.
Canada's prosperity depends not just on meeting the challenges of today, but on building the dynamic economy that will create opportunities and better jobs for Canadians in the future. WD is helping to build this economy through a variety of projects that give Manitobans the skills they need to promote productivity and economic development.