Business Productivity & Competitiveness
The following document is out of date.
Archived Content
Information identified as archived on the Web is for reference, research or recordkeeping purposes. It has not been altered or updated after the date of archiving. Web pages that are archived on the Web are not subject to the Government of Canada Web Standards. As per the Communications Policy of the Government of Canada, you can request alternate formats on the "Contact Us" page.
Federal-provincial agreements to invest $200 million in western economy
Minister Yelich and Minister Stewart shake hands after signature of agreements. (Directly behind Minister Yelich is University of Saskatchewan Vice President of Finance and Resources, Dr. Richard Florizone and MP Robert Clarke)
In these uncertain times, when Canada is threatened by a struggling world economy, it is essential that governments work together to secure the country's long-term growth and prosperity.
Early in 2009, the Honourable Lynne Yelich, Minister of State for Western Economic Diversification, met with her provincial counterparts to sign a new series of Western Economic Partnership Agreements (WEPAs). The four-year agreements will allocate $25 million in funding for each of the western provinces, matched by the provincial governments for a total investment of $200 million in the western Canadian economy.
"Western Economic Partnership Agreements are a win-win and will stimulate the economy in Western Canada, which is essential to increasing the competitiveness of the West," said Minister of State Yelich at the signing ceremony in Saskatchewan. "Today's investment will help Canada meet the challenges of today and build a dynamic western Canadian economy that will create opportunities for families and communities."
WEPAs are multi-year federal-provincial funding commitments to strengthen economic activity and improve quality of life in western Canadian communities. By combining government resources, the agreements allow significant investments to be made in support of projects that contribute to the achievement of federal and provincial priorities, creating new opportunities and better jobs for Canadians, today and in the future.
Priorities for the WEPA agreements signed in 2009 include:
Supporting the creation and growth of research and development, with a focus on getting new products, technologies and services out to market;
Supporting trade and investment;
Enhancing business productivity and competitiveness; and
Increasing Value-added production in traditional industries.
The agreements support numerous initiatives that grow and diversify the western economy at a time when families and communities are facing serious challenges and uncertainty due to the global economic slowdown.
The renewed agreements demonstrate WD's ongoing commitment to work with the western provincial governments to help families and communities bridge the gap between downturn and recovery, foster innovation and build a stronger economy.
Forum for Women Entrepreneurs expands success of B.C. businesses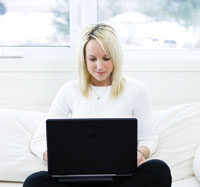 Cybele Negris and her committee had the incredibly difficult task of choosing just 15 out of 200 applicants to participate in the Forum for Women Entrepreneurs (FWE) e-series program that began in January 2009.
It's not a decision Negris would make lightly. Not only is this successful entrepreneur a member of the FWE Board, she was also one of the first women to graduate from the program in 2003.
E-series provides training sessions for women looking to take their young, high-growth businesses to the next level. Each year, a small number of women are selected to participate in the program, which offers weekly sessions taught by business leaders and industry experts on topics such as marketing, sales, financing, legal issues, pitching for investors, cross border issues, public relations and human resources.
"It's a huge commitment of time, but the knowledge and the networking made a huge difference to me and my business," says Negris.
Negris is a partner in webnames.ca, the original Canadian domain registrar. The company hosts thousands of websites and manages domain portfolios for many of Canada's Fortune 500, including Air Canada, CanWest Global and Pharmasave.
Such accomplishments have not gone unnoticed. Negris has earned a spot in PROFIT magazine's Canada's Top Women Entrepreneurs every year since 2004.
Many other women have benefitted as well. Michelle Kelsey of Vancouver knew her business, Nannies On Call, was on track to expand but it took a bit of networking with other women entrepreneurs to give her the confidence to really kick-start the process.
On the advice of a friend, Kelsey registered for e-series and, within a year of her graduation in 2006, she had bought out a competitor in Whistler. Since then, she has also opened an office in Calgary, and her staff has tripled from three to nine.
In addition to e-series, FWE sponsors a mentorship program, hosts twice-yearly roundtables on specific topics and offers one-year student internships for up to five young women entrepreneurs. In late 2007, WD invested $100,000 to help FWE continue delivering its programs for the next two years.
Executive Director Jill Earthy says that, over the years, FWE members have founded more than 500 companies, created hundreds of jobs and built a growing business community of women entrepreneurs, corporate executives, professional advisors and investors.
"Partnering with WD enables us to provide additional resources and even more value to our members," she says.

top of page
Connecting B.C.'s rural entrepreneurs
British Columbia Community Futures organizations use their new videoconferencing equipment.
Small business owners and aspiring entrepreneurs in Western Canada's rural communities often have difficulty getting the support needed to succeed. While a wealth of seminars, conferences and other resources are available in major centres, entrepreneurs from smaller communities need to travel in order to access these opportunities.
A new videoconferencing network, completed in October 2008, is making it easier for British Columbia's rural residents to get the assistance they need to start or grow their small businesses. Coordinated by Community Futures British Columbia, the network includes all 35 BC Community Futures locations and the Women's Enterprise Centre, located in Kelowna.
The network allows users to participate in seminars, obtain advice and receive business information through real-time, interactive videoconferences hosted by their local office. Not only does the network improve access to training and business development, it also saves time and money, because participants don't have to leave their home communities.
"The benefits of videoconferencing were seen immediately," said Richard Joyce, Chair of Community Futures British Columbia. "In the first quarter of operations 51 training events were delivered via videoconferencing to more than 250 people. The system was also used by four small businesses to conduct job interviews and CF members benefited from the interactive dissemination of information from government leaders and policy makers."
To subsidize the operational costs of the network, Community Futures makes unused videoconferencing time slots available for a fee to other agencies and service groups.
WD has invested nearly $1.1 million to establish videoconferencing networks in each of the four western provinces. The original 83 sites funded by WD have since increased to more than 150 locations in communities across the West. The expanding network is believed to be the largest such network in North America.
Need access to video-conferencing facilitites?
Small agences and service groups that need access to video-conferencing facilities can book time for a nomial fee through Community Futures British Columbia. In October 2008 Community Futures British Columbia's new videonferencing network became operational. To subsidize its operational costs, Community Futures makes unused videoconferencing time slots available for a fee to other agencies and service groups. For more information, please contact your local community futures organization at http://www.communityfutures.ca/index.html.
Manitoba film industry shines in the spotlight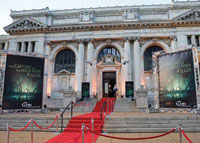 The made for TV movie "The Capture of the Green River Killer" was made in Manitoba and listed by Variety as one of the top TV shows of 2008.
Manitoba's film industry is rolling. A made-in-Manitoba television movie, The Capture of the Green River Killer, was named one of the top TV shows of 2008 by Variety, the entertainment industry's leading news source. And My Winnipeg not only made a Time.com list of 2008's top 10 movies, it also won the Rogers Best Canadian Film Award from the Toronto Film Critics Association.
Those achievements are just the latest for the province's film industry, which has experienced solid growth over the past decade. Since 1997, film and television production has increased by nearly 250 per cent in Manitoba. Last year, the value of Manitoba productions rose to $122 million, more than 50 per cent higher than the previous year.
According to Neila Benson, Executive Director of Film Training Manitoba, one reason for the industry's growth is the depth of talent found in the province. "The availability of creative and technical skills not only provides an essential foundation for high-quality local productions, they're also a major drawing-card that attracts foreign productions to Manitoba."
Film Training Manitoba (FTM) helps upgrade the skills of people already working in the industry, as well as offering entry-level training for those just starting out. Working closely with the film industry, FTM identifies the areas of greatest need, and offers practical, skill-based training to address labour gaps. The organization also partners with local production companies to offer on-the-job experience on film sets, and in production offices and other active film environments.
With a primary focus on the people who work behind the scenes, film crews offer a vast range of opportunities, including assistant directors, camera operators, grips, props, electrics, locations and costume design.
Like most industries, film is changing rapidly, making it essential that crew members keep abreast of new technologies. A $108,000 investment from WD in 2008 enabled FTM to purchase advanced high definition (HD) equipment - including cameras and projectors, multi-media/computer equipment and lighting - that will allow them to offer training in digital film production.
Benson says, "The rapid evolution of technology in film-making is creating new positions on set and changing aspects of existing positions, such as lighting and camera positions. By making it possible for FTM to train the province's crew members in new technologies, WD's investment will ensure Manitoba's film industry continues to grow and succeed."
Film training now available on-line
WD's investment in Film Training Manitoba (FTM) is helping to expand training opportunities across the province. An upgraded website has enabled FTM to venture into distance learning. In August it launched six on-line programs that provide rural and northern Manitobans with access to film training 24 hours a day, seven days a week, without having to leave home.

top of page
New venture capital fund for Westerners
Access to capital is frequently an obstacle for early-stage companies trying to develop and commercialize innovative new products or services. Now, a major new venture capital fund is providing western companies with the investments they need to grow and succeed.
iNovia Capital Inc., one of the few major private venture fund managers operating in Alberta, recently raised $107 million for a new fund that will help entrepreneurs and innovators build successful companies in the information technology, life sciences and cleantech sectors. With a $5 million contribution from WD's Loan and Investment Program, the fund will invest at least $25 million in western Canadian innovations.
"Access to seed capital and strategic networking are essential ingredients for the development of successful technology based companies," said Shawn Abbott, Partner at iNovia Capital. "With this investment, Western Economic Diversification Canada is directly supporting Western Canada's emerging entrepreneurs and is helping ensure that our brightest minds are put to work building our future economy rather than drained to more established markets."
iNovia began actively reviewing western Canadian opportunities in 2008 and, early this year, announced its first equity investment - Calgary-based information and communications technology firm, Tynt Multimedia. Tynt is an innovative early-stage company that has developed a custom web browser plug-in communications platform.
The company has entered into a series of strategic relationships with key Alberta technology commercialization partners - including TEC Edmonton, Calgary Technologies Inc. and the Alberta Research Council - that collectively undertake nearly a billion dollars of research and development activity each year. These relationships provide deep industry knowledge and insight, and will enable the fund to identify technologies with a high potential in the marketplace.
iNovia anticipates making numerous investments under the program throughout 2009. The fund typically provides an initial investment between $500,000 and $2 million, and up to $7 million over the life of a company.
Helping Saskatchewan businesses STEP into international markets
International trade represents an important growth opportunity for businesses of all sizes, but accessing foreign markets can be a difficult. Recent data from Statistics Canada show that Saskatchewan is leading the nation in export growth, with a 36.3 per cent increase in exports from March 2007 to March 2008.
Some of that success can be attributed to the Saskatchewan Trade and Export Partnership (STEP) - an industry-led organization established by the Province of Saskatchewan that introduced a program that makes it easier and more affordable for exporters and trade development organizations to do business with foreign distributors, importers and agents.
The program, which received $187,000 from WD, attracted incoming buyers from 23 different countries, with the top three markets being the United States, Australia and Russia. In all, 95 companies confirmed business with new suppliers.
Participating western Canadian firms reported new exports of $27.6 million and repeat exports of $217.8 million. Saskatchewan-based exporters accounted for nearly 50 per cent of those totals.
The Western Canada Incoming Buyers Program, which concluded in September 2007, attracted qualified international buyers by providing partial reimbursement of travel and language interpretation costs - enabling western Canadian companies to conduct international business without having to leave the country. In return, foreign buyers received exposure to industries with high export potential.